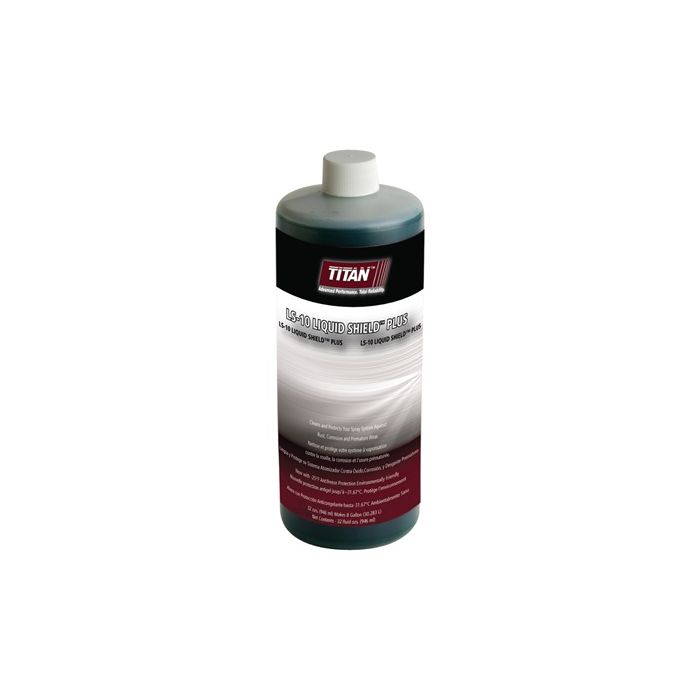 Titan Liquid Shield is specially formulated to provide protection for airless paint pumps.
Read more
Like all machines, airless paint pumps and pressure washers need to be properly cared for to ensure they continue working properly and last a long time. That means you need to take the necessary steps to prevent premature wear, avoid corrosion and rust, and keep all parts working properly. Titan's Liquid Shield can help you keep your airless paint pump in top condition.
Titan Liquid Shield was designed specifically for use with airless spray equipment and can help protect this gear from rust and corrosion commonly caused by use with water-soluble products such as latex paints. By preventing the metal parts in your sprayer from rusting, you'll be able to significantly extend the life of your equipment.
In addition, Liquid Shield will prevent check valves from sticking, ensuring your sprayer starts up easily every time you use it. Since Liquid Shield is water soluble, you can use it in different concentrations depending on the job.
Regular application of Titan's Liquid Shield is one of the easiest ways to maintain your spray pumps. Ultimately, this will save you a great deal of money in the long run.
Specification
| | |
| --- | --- |
| Ready To Ship | Yes |
| Shipping Length | 8 |
| Shipping Width | 8 |
| Shipping Height | 4 |
| Shipping Weight | 3 |
| | |
| --- | --- |
| Dimensions | 3.2" W x 3.2" D x 9.2" H |
| Weight | 2.3 lbs |
Customer Reviews
Top customer reviews