McDonalds 48" Speedy Logo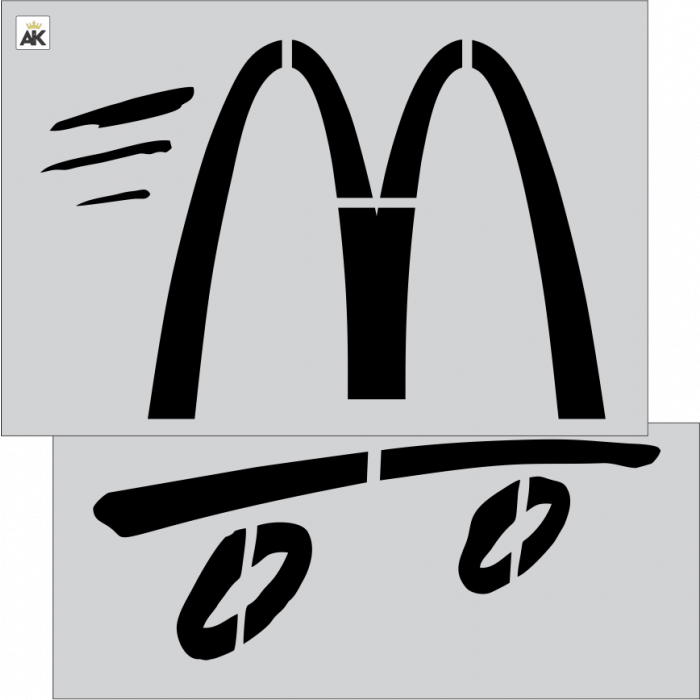 Includes 2 LDPE sheets that need to be aligned together to form the McDonald's logo on wheels.
Read more
The McDonald's 48" Speedy Logo is usually painted at specific parts of the drive-through area of each store to indicate where customers can pick-up their orders without having to leave their vehicles. This 2-piece LDPE stencil set depicting the logo is machine-cut to conform precisely with McDonald's franchise specifications to ensure a uniform appearance through the brand.
This stencil's LDPE material is very flexible yet sturdy enough to withstand pressures of up to 3000psi when used with sprayer guns from line striping machines. With an overall size of 54 x 54 inches, each stencil sheet includes 3 inches of extra material to accommodate overspray. The McDonald's Speedy Logo stencil kit is available in three varying thicknesses - 1/16" (.060"), 1/10" (.100"), and 1/8" (.125"). To clean, simply flex the stencil to remove dried paint, and then roll up or hang for easy storage.
The Speedee Service System is a technique in food preparation that was developed by the McDonald brothers in the 1940s-50s wherein, their kitchens function much like an assembly line in automobile factories. This system ensures that food gets prepared fast so that customers can receive their food in as little time as possible. This became the predecessor of the drive-through strategy, which became very popular over the years. Nowadays, whenever you see the McDonald's "Speedy" logo, it gives the impression that your meal will be ready and available for pick-up in a snap.
Specification
| | |
| --- | --- |
| Ready To Ship | Yes |
| Stencil Name | Parking |
| Stencil Height | 48" |
| Stencil Width | 48" |
| Stencil Type | Directional Stencil |
Customer Reviews
Top customer reviews