McDonalds 1 pc 42.75" Curbside Remote App Logo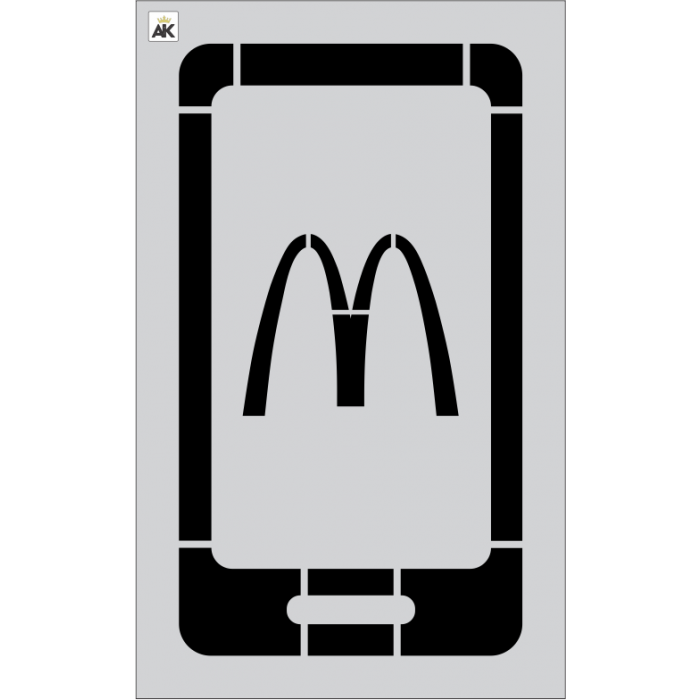 This curbside stencil helps minimize in-store crowd while providing McDonald's customers an additional option on how to receive the meals they ordered.
Read more
The McDonald's (1-pc.) 42.75" Curbside Remote App Logo stencil has an overall measurement of 49" x 30", including the 3-inch surrounding overspray border. This stencil is used for marking sections of curbs in a McDonald's outlet where customers can pick-up their orders curbside, instead of going into the store. In view of the current Covid-19 pandemic, curbside pick-up is a smart way of making sure that proper social distancing is observed.
This LDPE stencil is machine-cut to adhere to McDonald's specifications in order to maintain the brand's appearance throughout all branches. Just as with all other stencils from Asphalt Kingdom, this curbside stencil is also flexible, durable, and can withstand spraying pressures of up to 3000psi from any line striping gun.
With 3 different thicknesses available, this 42.75" McDonald's Curbside Logo Stencil has all the options you need to complete your projects. The thickest options is the 1/8" (.125") PRO-Grade LDPE. This 125mm thick stencil is highly preferred by line striping and pavement maintenance professionals due to its pliant yet sturdy make. With a high tolerance to frequent usage, this stencil type can last for a very long time. Next in the thickness scale is the 1/10" (.100") Light-Duty LDPE, which is designed for medium to light usage. For DIYers that need to use stencils every few months or so, this thickness is very ideal. For very rare usage, such as once or twice a year, the 1/16" (.060") Light-Duty LDPE will prove to be highly effective. McDonald's franchise owners that do their own pavement marking will benefit greatly when using this stencil type since it is less expensive compared to the other variants, yet still provides the same accuracy and performance.
Whether you are a professional, a DIYer, a property owner or franchisee, it is important to make sure that your stencil is cleaned and stored properly after each use. Even the thickest material will not stand up to a few repeated uses if not taken care of accordingly.
Specification
| | |
| --- | --- |
| Ready To Ship | Yes |
| Stencil Name | Parking |
| Stencil Height | 42.75" |
| Stencil Width | 24" |
| Stencil Type | Directional Stencil |
Customer Reviews
Top customer reviews