Resistoseal 20 kg bag Cold Patch Asphalt Repair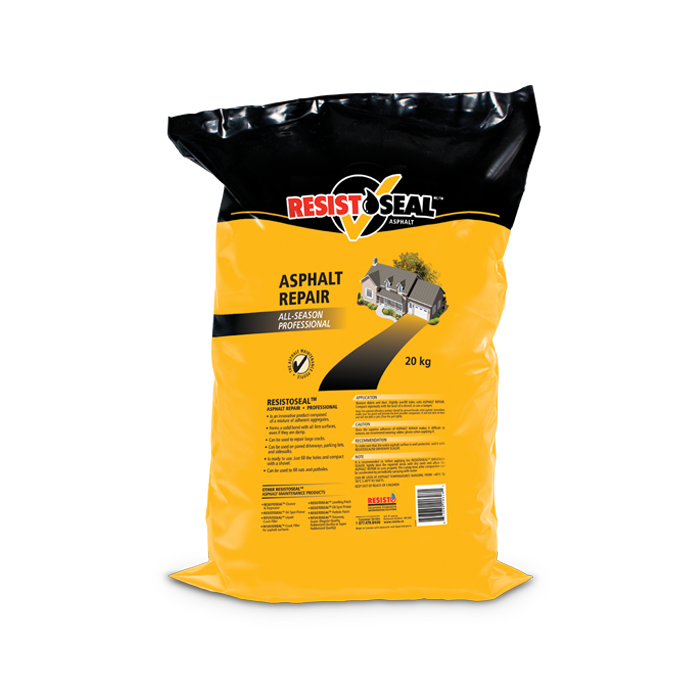 This product is not in stock in USA. If you'd like a quote on getting it delivered to you, please fill out your information.
Resistoseal 20 kg bag Cold Patch Asphalt Repair
Read more
Fix potholes and large cracks all year round with cold patch asphalt repair.
Can be used all year long
Ideal for DIY or contractor use
Sets within 3-4 hours
Delivered in: 5-10 Business Days
Resistoseal Asphalt Repair is your go-to product when you need to repair larger cracks and potholes in any of your asphalt surfaces.
This 20kg bag will cover 0.53 metres squared (5.7 feet squared) of a depth of 25mm (1 inch). Most importantly, it will bind to all solid surfaces even if wet!
The first step is to make sure that the damaged area, whether it be driveway, parking lot, or walkway, is cleared of all loose pieces and any pooled water. Then simply fill the holes or cracks to just above the surface. With a tamper, or even a shovel, compact the Resistoseal Asphalt Repair. Sand the surface lightly, to prevent sticking to traffic, and open the area immediately for use.
What could be easier and faster?
Experts know that asphalt cracks that are 20mm (3/4 inch) and larger, can't be fixed with plain old crack filler. You must have a compound that is engineered for pothole repair. This is exactly the product you need for larger asphalt cracks.
No one wants to wait hours, or even days, to get back to using their parking lot, driveway, or sidewalk, and Resistoseal Asphalt repair allows you to get the traffic back to those areas as soon as you've filled, tamped and sanded!
Customer Reviews
Top customer reviews
Customer Questions
If you can not get access to millings for whatever reason, would cold patch work in place?
No. The pothole patch is made for potholes. Asphalt millings are loose and dry and have a little binder in them. Most millings are reincorporated in new rock and asphalt as a usable filler for paving and are not good for potholes.