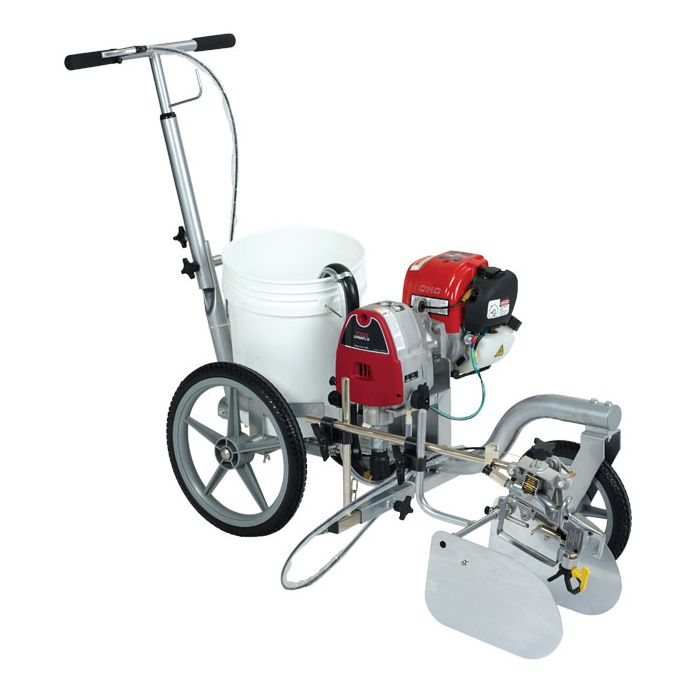 Protect your spray from the wind when linestriping with this spray shield. Line striper sold separately.
Read more
Titan's Spray Shield is an essential accessory for any line striping device. It will block the wind and ensure your lines look great regardless of the terrain or weather conditions. You can add the spray shield to your line striping machine at the time of purchase or buy one for use with a machine you currently own.
Attaches to any Titan PowrLiner striping machine
Attaches to most competitive models of line stripers
Spring loaded shields help to adjust on uneven surfaces
Keeping the wind away from lines you are striping not only improves the crispness of the lines. A Titan Spray Shield gives you protection from gusts and breezes, limiting overspray and reducing your material costs.
The Titan Spray Shield can be installed on your line striping machine easily using a standard clamping bracket that gets mounted to the horizontal rod that encases the machine's spray gun assembly. The adjustable wind guard gives you easy access for on-the-fly width changes with no tools required. You can adjust it to 4", 6" or 8", and put it on or take it off with ease. At just 5.5 lbs., it's sturdy but won't weigh you down.
This spray shield improves the quality of your sports field markings regardless of the height of the grass. In addition, it's an effective way to reduce drift when painting lines on pavement during high wind conditions.
You'll enjoy the following benefits when you use the Titan Spray Shield:
Protects spray pattern from heavy wind conditions for a crisper result
Reduces overspray
Cuts down on wasted materials, lowering your costs
Easily adjustable so that you can change line widths instantly
Easy to install and remove
Great for use with diluted athletic field marking paints
Works with all Titan lines striping machines and compatible with many other brands
Shields are spring-loaded to improve results on uneven surfaces
Effective on rough terrain and tall grass
Lightweight
The Titan Spray Shield is one of the easiest ways to protect your spray from the wind. The superior results make this well worth the investment.
Customer Reviews
Top customer reviews
Customer Questions
Will it fit a crack linelazer 3400
Yes, it will work with that Graco machine.