10" Number (0-9) 12-pc. Stencil Kit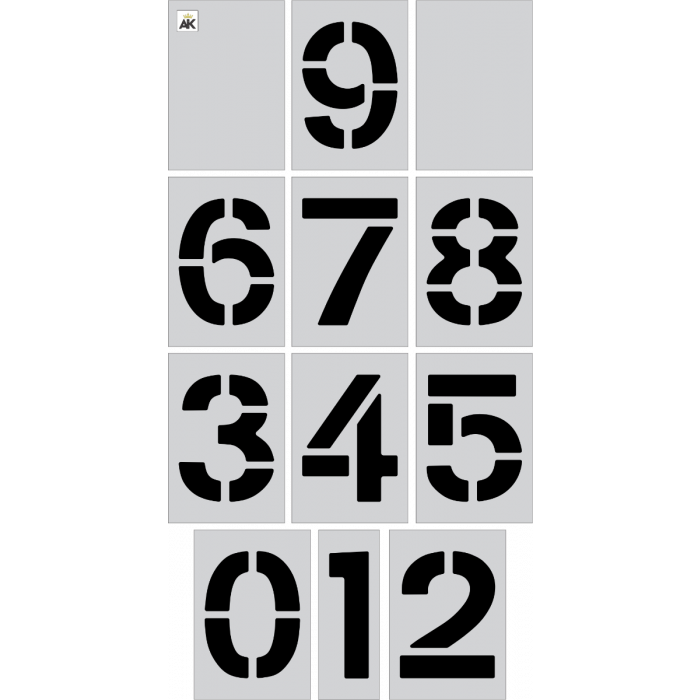 10 Number Kit Stencil

Read more
Delivered in: 5-10 Business Days
Have questions? We're here to help!

Speak to an Asphalt Expert!
Contact our Experts
For accurate and efficient numbering on any large or small project, invest in the 10" number kit stencil. The stencils are designed to be accurately and equally spaced, so that any combination of numbers can be created equally. The standard kit comes with 12 pieces that include the numbers 0 through 9 plus two additional blank pieces that can be used for spacing or end pieces. The kit can be upgraded to an 18-piece kit for heavy duty use, and this kit includes extra numbers 0 through 5. Each stencil is crafted in America and is shipped with a warranty that guarantees that it will be delivered without any defects or impediments that could hinder its intended use.

There are four material grade options available for the make of your stencil. For heavy duty work, the .080 ALU is the most durable. It is an indestructible 5052 aluminum which provides unlimited uses and can withstand thermoplastic extruding. Another durable option is the ?" PRO-Grade LDPE, which offers longevity and affordability. This material is the most commonly used grade in the industry and is a standard for most contractors. It lasts for up to a decade and can withstand thousands of uses without showing signs of wear or tear. The 1/16" LDPE is the counterpart to the PRO-Grade with half the thickness, acting as a more flexible and lighter duty option for custom work. The .030 HIPS is ultra thin, and is the most flexible grade available. This grade is the best option for one-time or unique uses.

The measurements and specifications of each stencil comply with industry standards and are guaranteed to fit in any space. When printed, each character reaches a width of 7.5" and a height of 10". The material itself is several inches larger on all sides to allow for overspray. The material measures 9.5" in width by 14" in height, matching the measurements of the two blank pieces as well.
Have questions? We're here to help!

Speak to an Asphalt Expert!
Contact our Experts
Specification
| | |
| --- | --- |
| Ready To Ship | Yes |
| Stencil Name | Parking |
| Stencil Height | 10" |
| Stencil Width | 6" |
| Stencil Type | Number Stencil |
Customer Reviews
Top customer reviews
Customer Questions
are these one time use? or can they be cleaned and used multiple times?
Most contractors clean them and use them a few times. If you are rough with stencils in general, it is possible they would crack on the first go but in general that hasn't been our experience. If you're looking for something with more reusability, we can provide a heavy-duty version of these - just let us know.