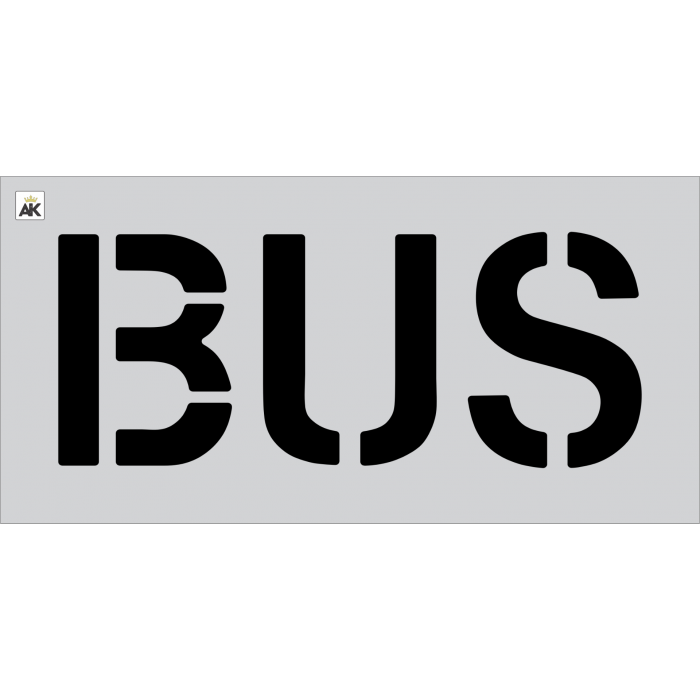 12 BUS Stencil

Read more
The 12" BUS stencil is a useful addition to any large or small stenciling collection. It is commonly used in school bus parking lots and in special lanes that designate where busses can drive and park. This is one of the industry standard stencils that can be easily used alone or paired with other standard words such as "ZONE", "ONLY", "PARKING", and more. The bold letters make the word easy to see against the pavement, so that oncoming traffic, pedestrians, and school children will easily identify a bus loading zone. This stencil is on the small to average size of industry standards, and is typically used in areas where busses are parked or moving slowly. It is manufactured in the USA and comes equipped with a warranty that guarantees that it will be free of any impediments or defects that could hinder it from further use.

The best material grade option for this kind of stencil is the ?" PRO-Grade LDPE, which is an industry standard. This is the most commonly used material for these stencils, as it offers durability, longevity, and affordability. You can use and abuse this stencil thousands of times before it ever shows any signs of wear or tear, and it can last over seven years when properly cared for. This rigid material lays flat out of the box and is heavy enough to sit still while withstanding up to 3000psi of spray painting power. It will never budge or warp, allowing for a clean and simple application every time.

The measurements and specifications of this stencil comply with industry standards and are guaranteed to fit in any designated parking lot or bus loading zone. When painted, the stencil measures 28" in width and 12" in height. The word has a stroke width of 2" between each letter for added boldness and clarity. The material itself measures 34" in width by 18" in height, allowing several inches of space on all sides for overspray and easy cleaning. The stencil comes on a single sheet which makes it easy to apply and transport.
Specification
| | |
| --- | --- |
| Ready To Ship | Yes |
| Stencil Name | Bus |
| Stencil Height | 12" |
| Stencil Width | 31" |
| Stencil Type | Word Stencil |
Customer Reviews
Top customer reviews
Customer Questions
are these one time use? or can they be cleaned and used multiple times?
Most contractors clean them and use them a few times. If you are rough with stencils in general, it is possible they would crack on the first go but in general that hasn't been our experience. If you're looking for something with more reusability, we can provide a heavy-duty version of these - just let us know.