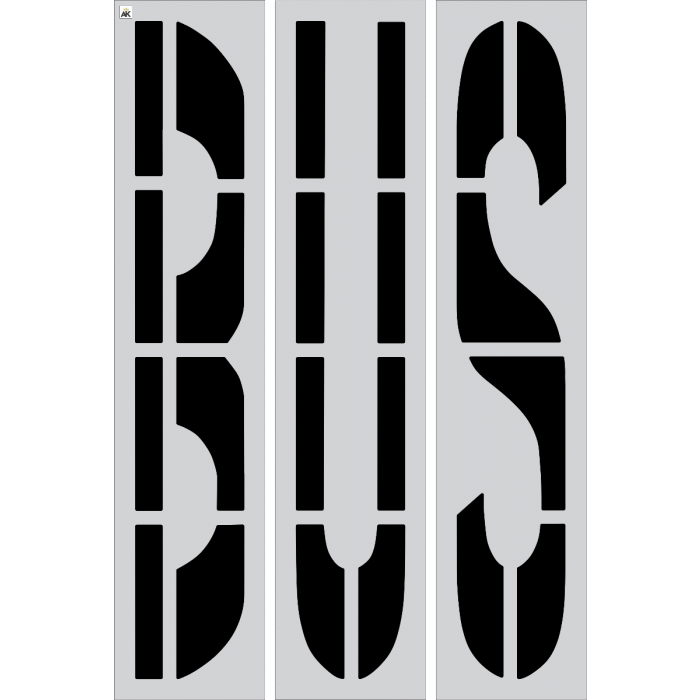 96 BUS Stencil

Read more
FREE SHIPPING
Delivered in: 5-10 Business Days
Have questions? We're here to help!

Speak to an Asphalt Expert!
Contact our Experts
The 96" BUS stencil is a heavy-duty stencil that is designed to be used in roadways. It is shaped with an elongated front that makes it much easier for oncoming drivers to see. It offers clear direction and indication for drivers and passersby alike. It comes with three individual pieces, with each letter on its own stencil for easy use and transportability. It can be spaced to fit into an existing marking, or can easily cover up old markings. The stencils can overlap for a perfect 4" spacing that meets industry standards. The stencil is made in the USA and offers a guarantee that it will be delivered without any defects or impediments.

The measurements and specifications of each stencil meet industry standards but are also adjustable to fit the needs of any project. When painted, the standard size of the combined stencils reach 56" in width and an extended 96" in height. The width of the material is 24" per piece, with a combined height of 104". The extra 4" of space on the material allows for overspray and easy placement.

There are a variety of durable and flexible material grades that can be affordable depending on the type of project needed. For a heavy duty and frequent use of the stencils, the .080 ALU is the most durable option. It is a rigid 5052 aluminum that can withstand any amount of use, and is nearly indestructible. It is also good for thermoplastic extruding and saves money in replacement fees over several years. The next recommended material is the ?" LDPE, which is named PRO-Grade as it is recommended by most industry professionals. It is the most common material for this type of stencil, and offers several years of durability and thousands of uses before ever showing signs of wear and tear. For a custom or lighter-duty project, invest in the 1/16" LDPE or the .030" HIPS. These materials are flexible yet still durable, and lay flat out of the box for an effective one-time or few-time project.
Have questions? We're here to help!

Speak to an Asphalt Expert!
Contact our Experts
Specification
| | |
| --- | --- |
| Ready To Ship | Yes |
| Stencil Name | Bus |
| Stencil Height | 96" |
| Stencil Width | 16" |
| Stencil Type | Word Stencil |
Customer Reviews
Top customer reviews
Customer Questions
are these one time use? or can they be cleaned and used multiple times?
Most contractors clean them and use them a few times. If you are rough with stencils in general, it is possible they would crack on the first go but in general that hasn't been our experience. If you're looking for something with more reusability, we can provide a heavy-duty version of these - just let us know.