96" x 16" STOP (4-pc.) Stencil Kit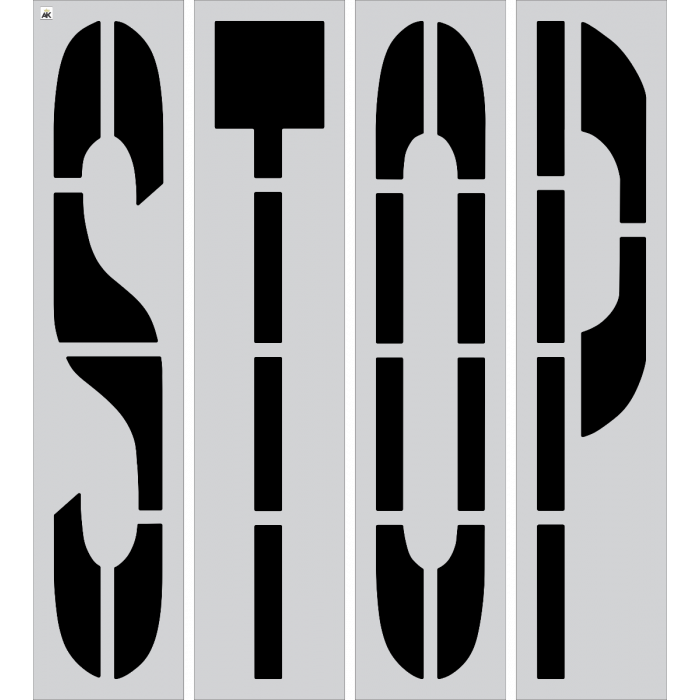 96-inch STOP LDPE Stencil

Read more
The 96" x 16" STOP (4-piece) Stencil Kit is one of the most frequently used stencils in the striping industry, and is a must-have addition to any serious contractor's collection. This heavy-duty stencil comes in four parts, with each letter on its own stencil for easy application and storage. This stencil is often used in roadways, residential areas, parking garages, construction sites, and other types of pavement. It can be used in front of a stop sign line, or it can be elongated on a driving lane to warn distant drivers of a stop up ahead. This sign can be painted alone or paired with other industry stencils such as "AHEAD" to give further direction. This stencil is compliant with most state DOT's and meets all FHWA and MUTCD standards. It comes with a warranty that guarantees the product to be delivered without any defects.

The measurements and specifications of the stencil can be adjusted to fit the sizing needs of the project, and each letter offers 4" of overlap for ease of placement. While the size may change, it typically measures 76" in width and 96" in height when painted. The material itself measures 24" wide per piece, with a total height of 104". The stencil has a stroke width of 4" between each letter for easy readability.

There are three material grade options available for this STOP word stencil. The 1/8" (.125") PRO-Grade LDPE is the most reliable variant for heavy-duty or long-term use, as it is thick and sturdy and allows for countless reuses over several years. This grade is also good for thermoplastic extruding and stays put on the ground while withstanding up to 3000psi of painting. If you are invested in a short-term or custom project, the thinner material grades will prove more cost-effective. The 1/10" (.100") Light-Duty LDPE has the same reliability as the PRO-Grade, but with half the thickness. The 1/16" (.060") Light-Duty LDPE lays flat out of the box for a one-time or infrequent use.
Specification
| | |
| --- | --- |
| Ready To Ship | Yes |
| Stencil Name | Stop |
| Stencil Height | 96" |
| Stencil Width | 16" |
| Stencil Type | Word Stencil |
Customer Reviews
Top customer reviews
Best Prices and fast shipping!
Customer Questions
are these one time use? or can they be cleaned and used multiple times?
Most contractors clean them and use them a few times. If you are rough with stencils in general, it is possible they would crack on the first go but in general that hasn't been our experience. If you're looking for something with more reusability, we can provide a heavy-duty version of these - just let us know.