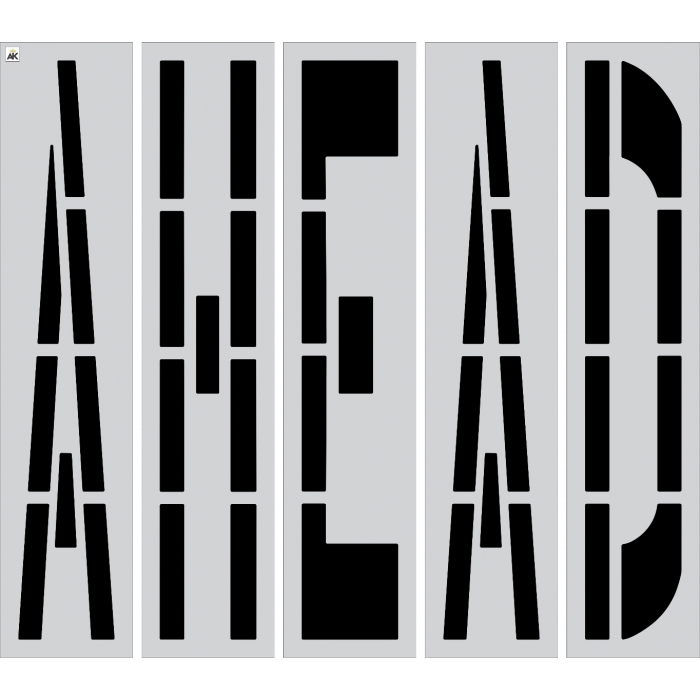 96 AHEAD Stencil

Read more
The 96" AHEAD stencil is a uniquely bridged and durable stencil that adds flexibility and versatility to any serious striper's collection. This stencil is designed according to Federal specs and is compliant with FHWA and MUTCD standards. The stencil comes with five individual pieces, with each letter on its own stencil for easy and flexible application. This sign is often used on roads, in construction sites, in warehouses, or on fields. The stencils are made in America with a guarantee that they will be delivered without any impediments or defects.

The measurements and specifications of each letter meet industry standards, but can be adjusted to meet the needs of your specific project. Typically, the width of the painted word measures 96", while the height measures 96". The material of each individual piece measures 24" wide, with a combined height of 104". The extra space around each stencil allows for overspray. The unique bridging of each letter is designed to catch any extra paint drips that may roll around during application.

The ?" PRO-Grade LDPE is the most recommended material grade for this stencil, as it offers durability and longevity. This material lasts several years, allowing you to reuse the stencil thousands of times before worrying about replacement. It is rigid enough to lay flat out of the box and withstand up to 3000psi of spray painting power. The .080 ALU is a thicker grade material for the heaviest projects. The aluminum grade is indestructible and allows for infinite reuses over a long period of time, and can withstand thermoplastic extruding as well. For a custom project, invest in the 1/16" LDPE or the .030" HIPS for flexibility. These ultra thin materials provide cost effectiveness and durability for a variety of different needs. These materials can last a long time when properly cared for, and are best used for one-time or infrequent projects.
Specification
| | |
| --- | --- |
| Ready To Ship | Yes |
| Stencil Name | Ahead |
| Stencil Height | 96" |
| Stencil Width | 16" |
| Stencil Type | Word Stencil |
Customer Reviews
Top customer reviews
Customer Questions
are these one time use? or can they be cleaned and used multiple times?
Most contractors clean them and use them a few times. If you are rough with stencils in general, it is possible they would crack on the first go but in general that hasn't been our experience. If you're looking for something with more reusability, we can provide a heavy-duty version of these - just let us know.