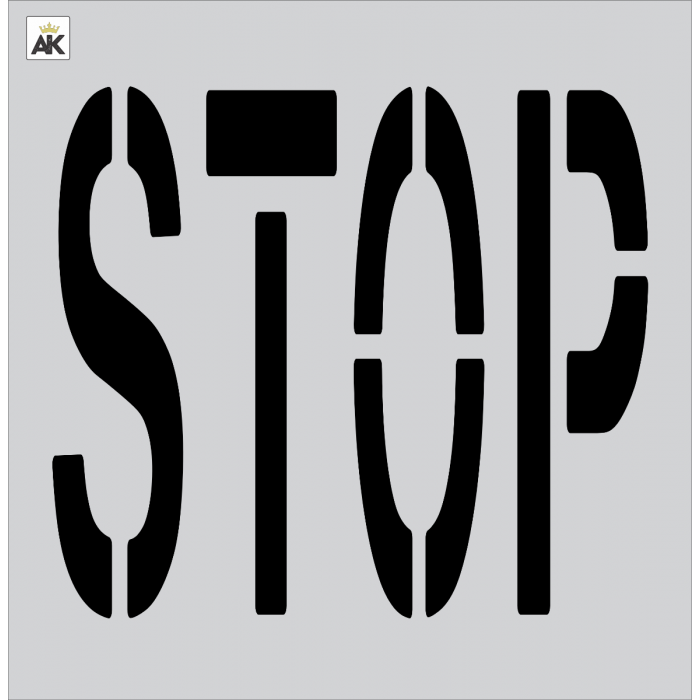 36" STOP Word Stencil

Read more
FREE SHIPPING
Delivered in: 5-10 Business Days
Have questions? We're here to help!

Speak to an Asphalt Expert!
Contact our Experts
The single-sheet 36" Stop word stencil proves to be very handy and easy to use. Compared to individual stencil letters, this 1-piece word stencil is very convenient since you would no longer need to line up several pieces before starting the paint job. This LDPE stencil is made in the USA and can hold up to heavy pressures of up to 3000psi when used against spray guns from line striping machines. This large pavement marking pattern has an overall size of 60" x 42" while the painted output measures 54" wide and 36" high. A surrounding 3-inch border shields paint jobs from overspray.

Pair this Stop Stencil with others such as "School", "Bus", "Bicycle", and signs like "Heavy Equipment Ahead" and "Construction Ongoing" to help deliver more specific information to both drivers and passersby, which allows them to take appropriate measures for safety.

With 3 different thicknesses to choose from, you are assured that we have the right stencil type for your job or project: 1/16" (.060") Light-Duty LDPE for infrequent uses, such as once or twice a year; 1/10" (.100") Light-Duty LDPE for multiple uses several times a year; and 1/8" (.125") PRO-Grade LDPE for professional line stripers who use stencils on a daily basis.

To ensure stencil longevity, clean stencils after each use and store by hanging against the wall or by laying flat in a box. If you store stencils by rolling, allow the sheet(s) to rest for a few minutes before using to ensure that there are no curled edges. Putting weights on the corners can also help speed up flattening.
Have questions? We're here to help!

Speak to an Asphalt Expert!
Contact our Experts
Specification
| | |
| --- | --- |
| Ready To Ship | Yes |
| Stencil Name | Stop |
| Stencil Height | 36" |
| Stencil Width | 31" |
| Stencil Type | Word Stencil |
Customer Reviews
Top customer reviews
Customer Questions
are these one time use? or can they be cleaned and used multiple times?
Most contractors clean them and use them a few times. If you are rough with stencils in general, it is possible they would crack on the first go but in general that hasn't been our experience. If you're looking for something with more reusability, we can provide a heavy-duty version of these - just let us know.