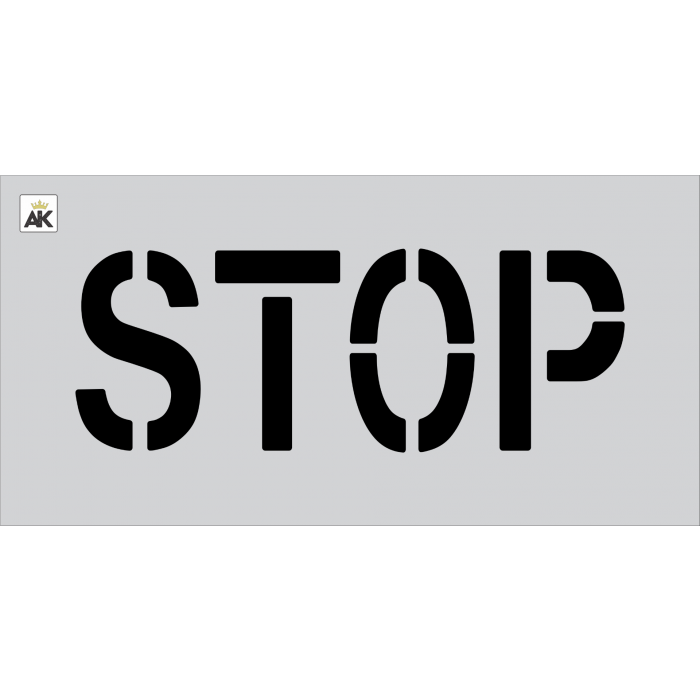 8-inch STOP Stencil

Read more
The 8" STOP stencil is one of the most useful stencils in the industry, as it offers flexibility and versatility for almost any pavement job. It is a must-have addition to any large or small collection. Contractors and stripers will find this stencil to be a smart investment when in a variety of assignments and projects. Typically, this stencil is used on bike paths, walkways, exits, and construction sites to mark where a pedestrian or cyclist can safely stop. It should be very visible to onlookers, to give pedestrians warning about an upcoming stop. If paired with other industry standard stencils such as "BIKE", "BUS", and "AHEAD", this Stop stencil becomes a very effective traffic indicator.

The measurements and specifications of this stencil comply with industry standards and are designed for use in parking lots or pedestrian crosswalks. When painted, the output marking measures 26" wide by 8" in height. The stencil material has an overall size of 32" wide by 14" high, including 3 inches of space on all sides to allow for overspray.

There are three material grade options available for this stencil. The most durable and thickest grade is the 1/8" (.125") PRO-Grade LDPE, which is a standard in the pavement marking and line striping industry. This durable stencil type is highly favored by professionals as it offers years of durability and thousands of reuses without showing signs of damage. If you're invested in a light-duty or custom job, the 1/10" (.100") Light-Duty LDPE is an affordable option. This grade is flexible without sacrificing durability and can last a long time when used sparingly. The 1/16" (.060") Light-Duty LDPE is the thinnest stencil option, which can greatly benefit DIYers, schools, communities, institutions, and property owners that do their own pavement or parking lot markings once or twice a year.
Specification
| | |
| --- | --- |
| Ready To Ship | Yes |
| Stencil Name | Stop |
| Stencil Height | 8" |
| Stencil Width | 22" |
| Stencil Type | Word Stencil |
Customer Reviews
Top customer reviews
Customer Questions
are these one time use? or can they be cleaned and used multiple times?
Most contractors clean them and use them a few times. If you are rough with stencils in general, it is possible they would crack on the first go but in general that hasn't been our experience. If you're looking for something with more reusability, we can provide a heavy-duty version of these - just let us know.