48" STOP Stencil Set (4 Pieces)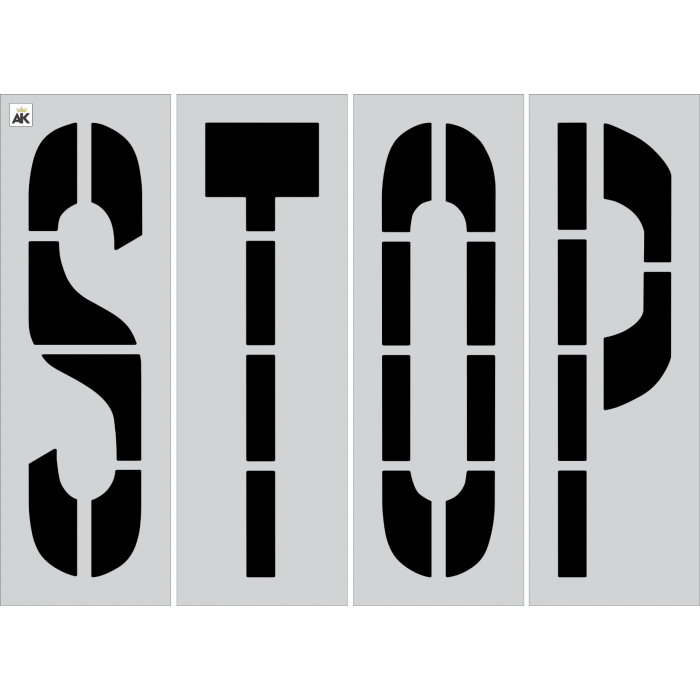 48-inch STOP Stencil Kit - 4 pieces

Read more
Stop signs are universally understood by both motorists and pedestrians. Strategic placement of stop signs ensures that proper traffic flow while minimizing related accidents. This 48" STOP 4-pc. Stencil Kit comes in handy when you need to paint stop signs where they are needed. Large signs are very helpful in high-traffic areas as they can be visible even at a distance. When coupled with other signs such as "Bicycle", "Bus", "Ahead" and "Pedestrian Crossing", a stop sign becomes more specific and conveys a much clearer direction.

This 4-piece stencil kit is made in the USA using commercial-grade clear LDPE material, so it can withstand heavy pressure of up to 3000psi from line striping guns. Each stencil sheet is cut with an individual letter that measures 48 x 12 inches and spells the word S-T-O-P when placed side by side. The overall size of each stencil piece is 54" x 18" which includes a 3-inch surrounding overspray border.

The 48" Stop Stencil Kit comes in 3 various thicknesses that will surely be compatible with any type of job or project. Professional pavement maintenance and line striping contractors generally prefer the 1/8" (.125") PRO-Grade LDPE due to its thickness. As the name implies, this stencil grade is specifically manufactured with professionals in mind. Geared to withstand the strain of daily use in the workplace, the Pro-Grade stencil can last for a very long time. At half the thickness of the previous option, the 1/10" (.100") Light-Duty LDPE is made for jobs that do not require frequent stencil usage. Aimed for medium to light job requirements, this stencil grade would serve DIYers really well. The 1/16" (.060") Light-Duty LDPE is the thinnest variety but is in no way inferior to the two previous options. This stencil type is very flexible and lays flat right out of the box. Ideal for property owners, school administrators, or small business owners that would prefer to do their own pavement marking instead of hiring contractors, this stencil variation is recommended for using once or twice a year.
Specification
| | |
| --- | --- |
| Ready To Ship | Yes |
| Stencil Name | Stop |
| Stencil Height | 48" |
| Stencil Width | 12" |
| Stencil Type | Word Stencil |
Customer Reviews
Top customer reviews
Customer Questions
are these one time use? or can they be cleaned and used multiple times?
Most contractors clean them and use them a few times. If you are rough with stencils in general, it is possible they would crack on the first go but in general that hasn't been our experience. If you're looking for something with more reusability, we can provide a heavy-duty version of these - just let us know.