36" x 12" Number Kit Stencil 12-pc Kit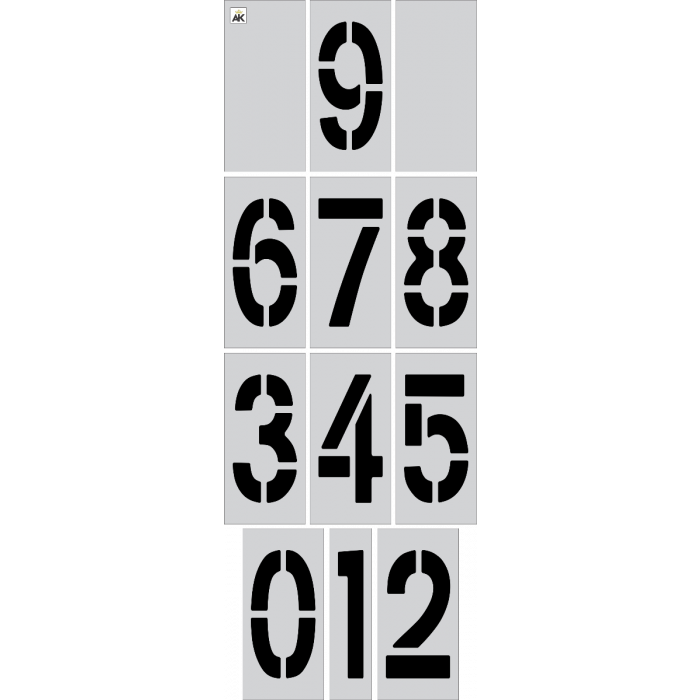 36 Number Kit Stencil
Read more
The 36" number kit stencil set is a must-have kit for any contractor's or striper's collection. These numbers are larger than most industry standards and typically used to mark speed limit roads as well as numbers in parking lots, warehouses, and more. The standard stencil kit comes with 12 pieces, which include the numbers 0 through 9 plus two blank end pieces. It can be upgraded to an 18-piece kit for an additional 0,1,2,3,4, and 5 to be used during heavy-duty jobs. This stencil kit is made in the USA and comes with a warranty that guarantees the product to be delivered without any impediments or defects.

The measurements and specifications of these stencils comply with industry standards and are designed for use in many public and construction areas. Each character, with the exception of the number 1, measures 12" wide by 36" high when printed. The elongated numbers make them easy to see by oncoming traffic and moving vehicles.The material itself measures 14" wide by 40" high, giving several inches of space on each side to allow for overspray.

For a range of durability and flexibility, decide which material grade your stencils in the kit will be made out of. Each stencil lays flat out of the box and can be reused as many times as the grade allows. For long-time use, try the 0.080" ALU or the ?" LDPE PRO-Grade, which allow you to reuse the same stencils thousands of time without any wear or tear. The ALU comes with a thermoplastic aluminum for special projects to make it quite indestructible. For something on the lighter side, the 1/16" LDPE and the 0.30" HIPS are thin materials that offer a quality stencil to be used once or twice. These are cost effective options which can ensure accuracy as they lay flat.
Specification
| | |
| --- | --- |
| Ready To Ship | Yes |
| Stencil Height | 36" |
| Stencil Width | 12" |
| Stencil Type | Number Stencil |
Customer Reviews
Top customer reviews
Customer Questions
are these one time use? or can they be cleaned and used multiple times?
Most contractors clean them and use them a few times. If you are rough with stencils in general, it is possible they would crack on the first go but in general that hasn't been our experience. If you're looking for something with more reusability, we can provide a heavy-duty version of these - just let us know.