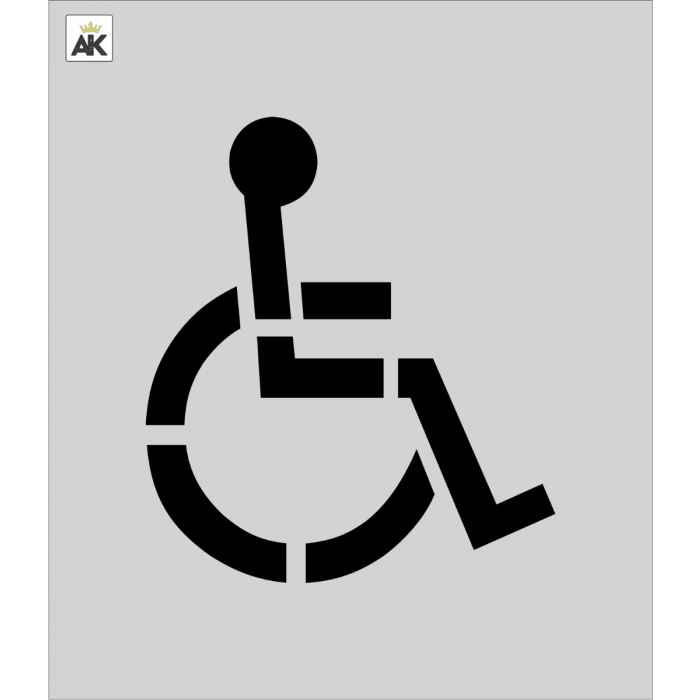 12 Handicap Stencil

Read more
Delivered in: 5-10 Business Days
Have questions? We're here to help!

Speak to an Asphalt Expert!
Contact our Experts
The 12" handicap stencil is a smaller handicap stencil that adds usefulness and versatility to any professional contractor's collection. It is compliant with ADA standards and is typically made for use on ramps and on signage to indicate handicapped friendly zones. Its small size allows it to be used in areas where pedestrians and drivers can get an up-close view of the signs. It is often painted on small routes, pathways, ramps, temporary parking spaces, and cardboard signs. While it is too small to fit in a parking space, it is more versatile than a larger stencil as it can be painted anywhere and is great to use for backup situations. This stencil is manufactured in the USA and offers a warranty that guarantees that it will be delivered without any impediments that could hinder its use.
Highest clear LDPE Grade material available in 3 different thicknesses.
Durable and reusable.
Very easy to clean.
For average or large projects, the 1/8" PRO-Grade LDPE is the standard. It allows for thousands of uses over several years without showing signs of wear. The 1/16" LDPE is the counterpart to the PRO-Grade, but with half the thickness. It is best used for light-duty projects.
The measurements and specifications of this single stencil are compliant with industry standards and are designed for use in small spaces. Item is rolled and shipped in cardboard box. When printed, the stencil measures 11" wide by 12" high for a compact and easy to read sign. The material itself measures 16" wide by 18" high, giving several inches of space on all sides to allow for overspray. The handicap symbol does not come with a background, but allows for added contrast and vibrancy against any type of pavement or sign.
Have questions? We're here to help!

Speak to an Asphalt Expert!
Contact our Experts
Specification
| | |
| --- | --- |
| Ready To Ship | Yes |
| Stencil Height | 12" |
| Stencil Width | 10.55" |
| Stencil Type | Handicap Symbol Stencil |
Customer Reviews
Top customer reviews
Customer Questions
are these one time use? or can they be cleaned and used multiple times?
Most contractors clean them and use them a few times. If you are rough with stencils in general, it is possible they would crack on the first go but in general that hasn't been our experience. If you're looking for something with more reusability, we can provide a heavy-duty version of these - just let us know.