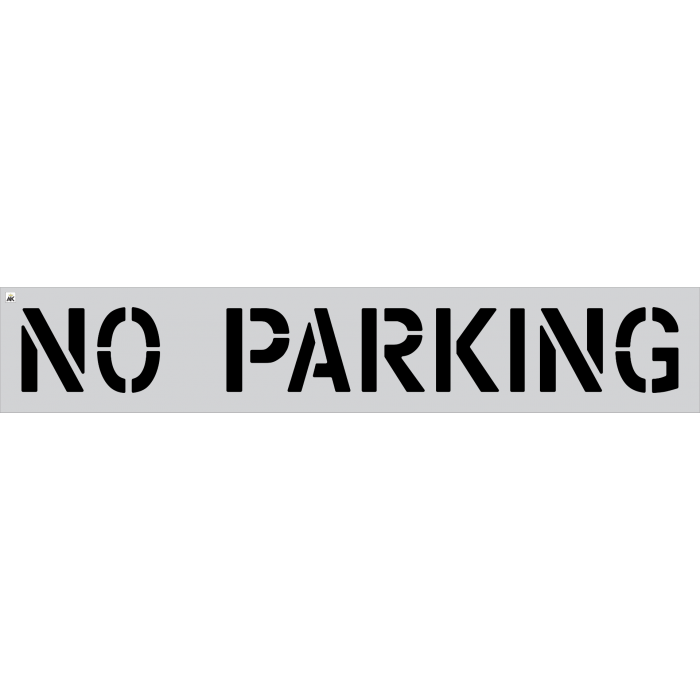 12-inch NO PARKING Word Stencil

Read more
The reusable 12" NO PARKING word stencil has an overall size of 18" x 100" with ample space around the letters to prevent overspray from smudging or streaking through the final output. This marking guide is made from sturdy yet flexible commercial-grade LDPE. With enough strength to hold up against 3000psi of spraying power, this remarkable instrument can last for years when cleaned and stored properly.
Marking specific sections of a parking lot can be difficult when you have to paint letters individually. This is why using word stencils such as this 12-inch No Parking stencil can be very useful. A word stencil not only offers speed and accurate application, it also ensures that the letters are properly spaced and aligned.
With 4 different thicknesses to choose from, you are assured that we have the appropriate 12-in. No Parking stencil for your job or project. The .080 ALU is very sturdy and durable. Made with Type 5052 aluminum, this marking plate is rust-proof and can last for years of constant use. The 1/8" (.125") PRO-Grade LDPE is not only tough but also very resilient, making this the go-to choice of professional line stripers and contractors that use stencils on most, if not all, of their line striping bookings. At half the thickness of the Pro-Grade variant, the 1/10" (.100") Light-Duty LDPE is meant for projects or jobs that are not as rigorous as regular pavement marking stints for contractors. This type of stencil is aimed for medium to light usage, such as a few times a year. Being the thinnest option available, the 1/16" (.060") Light-Duty LDPE is ideal for very rare use.
Specification
| | |
| --- | --- |
| Ready To Ship | Yes |
| Stencil Name | No Parking |
| Stencil Height | 12" |
| Stencil Width | 94" |
| Stencil Type | Word Stencil |
Customer Reviews
Top customer reviews
Customer Questions
are these one time use? or can they be cleaned and used multiple times?
Most contractors clean them and use them a few times. If you are rough with stencils in general, it is possible they would crack on the first go but in general that hasn't been our experience. If you're looking for something with more reusability, we can provide a heavy-duty version of these - just let us know.