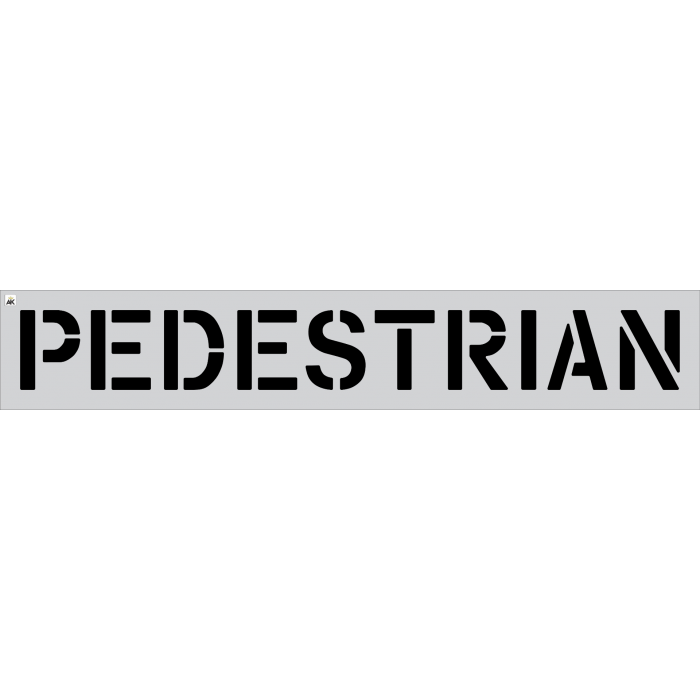 12 PEDESTRIAN Stencil

Read more
Delivered in: 5-10 Business Days
Have questions? We're here to help!

Speak to an Asphalt Expert!
Contact our Experts
The 12" PEDESTRIAN stencil is a commonly used stencil and a must-have addition to any professional striper's collection. This stencil is often used to mark public areas that are only accessible to foot traffic, and can give clear direction to all onlookers and passersby. Typically, this stencil can be seen on walkways, pedestrian bridges, shopping centers, crosswalks, and other large paths. This can be paired with other industry standard signs such as "ONLY" and "XING" to give further direction. This stencil is made in the USA and comes with a warranty that guarantees that it will be free of any impediments or defects.

The measurements and specifications of this stencil comply with industry standards and are designed to fit in any major crosswalk, parking lot, or publicly accessible area. When painted, the stencil measures a width of 93" and a height of 12" for easy readability. The numbers have a stroke width of 2" for added boldness, making it visible against the pavement. The material itself measures 99" in width by 18" in height, adding several inches of space on all sides to allow for overspray.

There are four different material grade options available for the make of this stencil. The thickest material available is the .080 ALU, a rigid 5052 aluminum that lasts forever. This is best for heavy-duty projects and thermoplastic extruding. The next thickest material grade is the ?" LDPE, which is named PRO-Grade due to its longevity and durability. It is recommended by most as the industry standard, and can last several long years. For something thinner, consider the 1/16" LDPE. This is the counterpart to the PRO-Grade, but with half the thickness. It is good for light-duty projects. The thinnest material available is the .030" HIPS, a standard PVC material that offers ultra flexibility for a custom fit.
Have questions? We're here to help!

Speak to an Asphalt Expert!
Contact our Experts
Specification
| | |
| --- | --- |
| Ready To Ship | Yes |
| Stencil Name | Pedestrian |
| Stencil Height | 12" |
| Stencil Width | 99" |
| Stencil Type | Word Stencil |
Customer Reviews
Top customer reviews