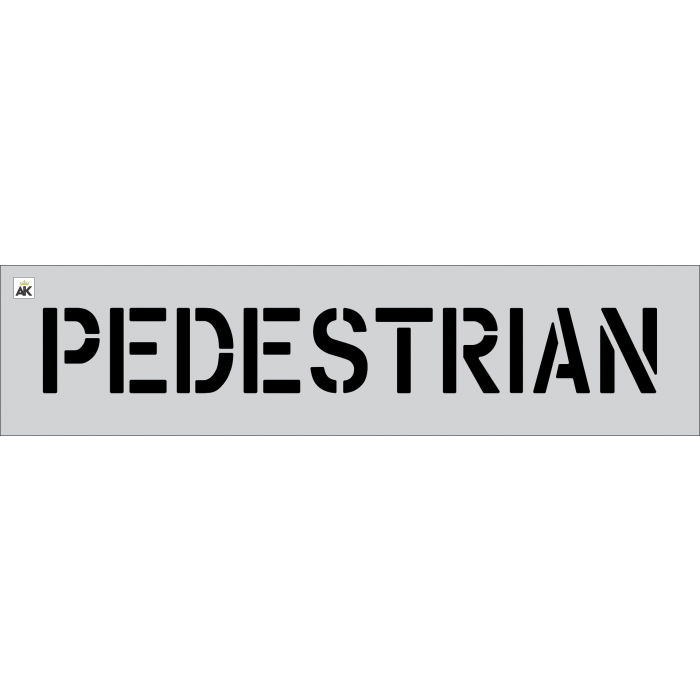 6 PEDESTRIAN Stencil

Read more
Delivered in: 5-10 Business Days
Have questions? We're here to help!

Speak to an Asphalt Expert!
Contact our Experts
For a useful stencil that any striper will want in their outfit, the 6" PEDESTRIAN stencil is a must-have. It is a versatile word that is useful in many public and business road projects. Typically, the stencil is designed for use in a lane, road, or crosswalk. It can be paired with other industry standard signs such as "ONLY" or "CROSSING" to give drivers and pedestrians alike a clear direction on what lane or part of the road they should be in. Stripers will enjoy how easy the stencil is to use and to clean up. Its size is perfect for any space while remaining clear and visible to onlookers. This stencil is made in the USA and offers a warranty that it will come without any impediments.

This stencil is typically made in the ?" PRO-Grade LDPE, which is an industry recommended material that offers both durability and longevity for heavy stencil use. If you are using your stencil for a heavy duty project, long-term project, or an industrial project where you plan on using it many times, the PRO-Grade LDPE is a perfect fit. It is affordable and cost effective over time as it allows you to reuse it over and over again for several years without it ever weakening or warping.

The measurements and specifications of this stencil are made to match any standard walkway or pathway where pedestrians are commonly found. The measurements meet all industry standards and comply with any type of public or business project. The material itself measures 57" in width and 12" in height, while the printed stencil is 51" wide and 6" high when painted. The painted stencil allows for easy readability and visibility while giving a clear and consistent direction. This stencil can be delivered to your doorstep quickly to get your project started in no time.
Have questions? We're here to help!

Speak to an Asphalt Expert!
Contact our Experts
Specification
| | |
| --- | --- |
| Ready To Ship | Yes |
| Stencil Name | Pedestrian |
| Stencil Height | 6" |
| Stencil Width | 44" |
| Stencil Type | Word Stencil |
Customer Reviews
Top customer reviews
Customer Questions
are these one time use? or can they be cleaned and used multiple times?
Most contractors clean them and use them a few times. If you are rough with stencils in general, it is possible they would crack on the first go but in general that hasn't been our experience. If you're looking for something with more reusability, we can provide a heavy-duty version of these - just let us know.