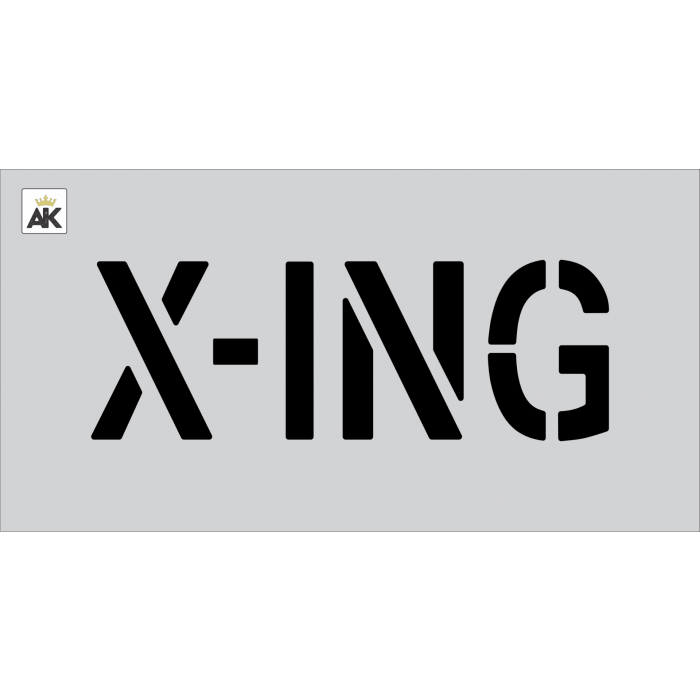 6 X-ING Stencil

Read more
The 6" X-ING stencil is a commonly used stencil in the industry, and is a must-have addition to any striper's collection. This sign is used in a variety of projects, the most common of which including walkways, pedestrian pathways, bike lanes, and more. This sign is useful by itself, clearly indicating to pedestrians and drivers where the exit lanes are. Additionally, this stencil can be paired with other industry signs that include "PEDESTRIAN", "ANIMAL", "BIKE", and more to give added direction to all passersby. This stencil is made in the USA and guarantees that it will be free from any impediments that could hinder it from its full use.

The measurements and specifications of the stencil are compliant with industry standards and are specially designed for smaller areas such as walkways and bike paths. When painted, the stencil has a width of 21" and a height of 6", which is small enough to fit in most spaces and clear enough to be easily read by onlookers. The material itself measures 27" by 12" in height, allowing extra space for overspray.

The most common material grade for this stencil is the ?" LDPE, which is a PRO-Grade material recommended by professionals. This is an industry standard material, allowing for rigidity while lying flat out of the box and withstanding up to 3000psi of spray painting power. Additionally, the .080 ALU is a very durable and indestructible aluminum that allows for countless reuses. These two grades are meant for heavy duty projects, and are cost effective if you plan on using the stencil very frequently. Alternatively, the 1/16" LDPE and the .030" HIPS are affordable for custom projects or infrequent uses of the stencil. These materials are thin and flexible, while still rigid enough to lay flat out of the box for a perfect stencil job.
Specification
| | |
| --- | --- |
| Ready To Ship | Yes |
| Stencil Name | X-ing |
| Stencil Height | 6" |
| Stencil Width | 18" |
| Stencil Type | Word Stencil |
Customer Reviews
Top customer reviews
Customer Questions
are these one time use? or can they be cleaned and used multiple times?
Most contractors clean them and use them a few times. If you are rough with stencils in general, it is possible they would crack on the first go but in general that hasn't been our experience. If you're looking for something with more reusability, we can provide a heavy-duty version of these - just let us know.