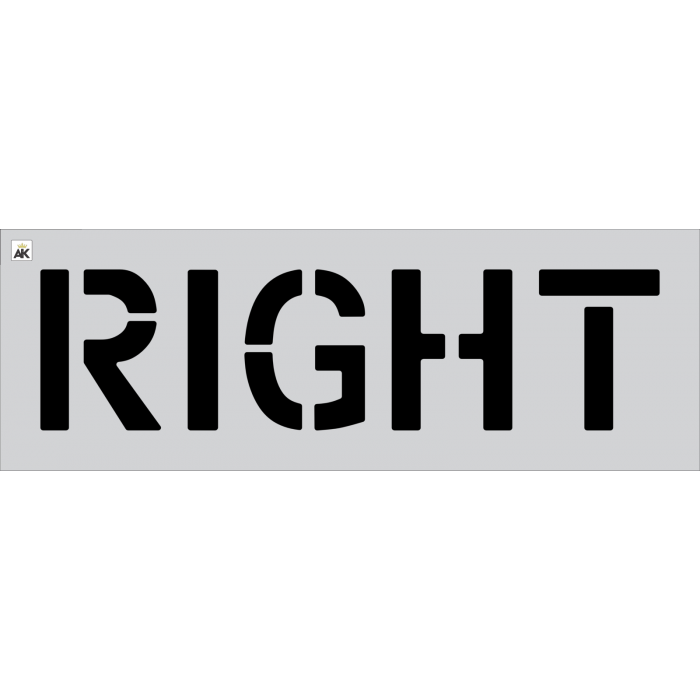 12 RIGHT Stencil

Read more
The 12" RIGHT stencil is a must-have addition to any striper's collection. Contractors who are interested in roadway and parking lot jobs will find heavy use out of this stencil, as it is designed for use in most publicly accessible spaces. Typically, the stencil is used to indicate where a lane, exit, or driveway turns right. It can be combined with other industry standard stencils such as "TURN", "ONLY", and "AHEAD" to give clearer direction. It is often paired with a right turn arrow so that oncoming traffic can easily see what lays ahead.

The measurements and specifications of this single stencil comply with industry standards and are designed to fit in most parking lots and roadways. When painted, the stencil measures 42" in width and 12" in height. The material itself measures 48" in width by 18" in height, giving several inches of space on all sides to allow for overspray. The printed word has a 2" stroke width for easy readability by oncoming traffic.

There are four different material grade options available for the make of this stencil. The thickest and most durable material available is the .080 ALU, a rigid 5052 aluminum that lasts forever. This is best for heavy-duty and frequent projects as well as thermoplastic extruding. The next thickest material grade is the ?" LDPE, which is named PRO-Grade due to its longevity and durability. It is recommended by most as the industry standard, and can last several long years while withstanding up to 3000psi of spray painting power. For something thinner, consider the 1/16" LDPE. This is the counterpart to the PRO-Grade, but with half the thickness. It is good for light-duty projects. The thinnest material available is the .030" HIPS, a standard PVC material that offers ultra flexibility while laying flat for a custom fit.
Specification
| | |
| --- | --- |
| Ready To Ship | Yes |
| Stencil Name | Right |
| Stencil Height | 12" |
| Stencil Width | 47" |
| Stencil Type | Directional Stencil |
Customer Reviews
Top customer reviews