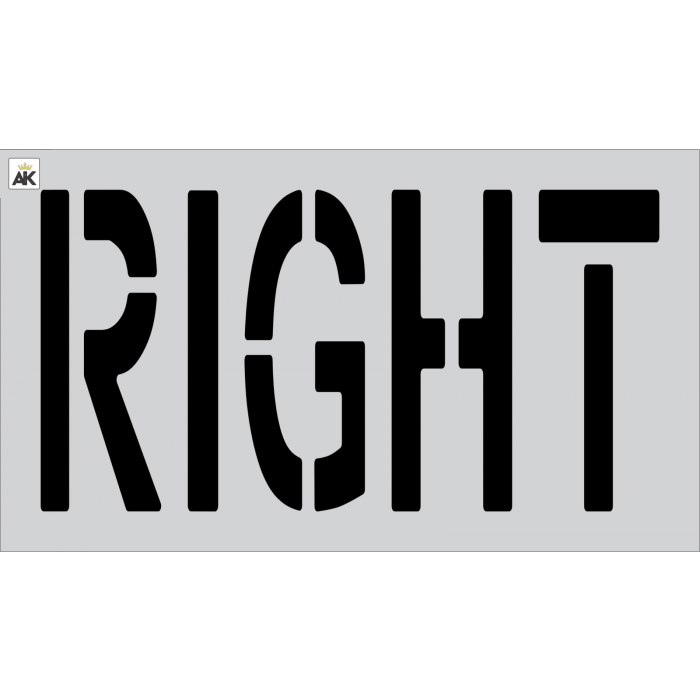 24x9 inch RIGHT Stencil

Read more
Delivered in: 5-10 Business Days
Have questions? We're here to help!

Speak to an Asphalt Expert!
Contact our Experts
To further promote road safety, drivers and pedestrians should be made completely aware of their right of way on the road, especially in locations with high traffic or in intersections, crosswalks, and single-lane streets. Using the 24" x 9" RIGHT word stencil is one step in ensuring public safety on the road. Pair this 24-inch stencil with other word marking guides such as "Lane" and "Keep" to provide a clearer traffic direction.

Low-density polyethylene is a very flexible material, making it ideal for making stencils that are lightweight and easy to handle, yet sturdy enough to endure high pressures from spray guns of up to 3000psi. The "School" stencil's overall size is 30 x 65 inches, which includes a 3-inch overspray border on all sides.

The 24 x 9 School stencil is offered in 3 different thicknesses that can surely fit any job type or project. The 1/8" (.125") PRO-Grade LDPE is the thickest stencil grade available. This stencil type is so tough that it can stand up to constant daily use, making this the optimum choice among professionals in the pavement maintenance, line striping, and road marking industries. The 1/10" (.100") Light-Duty LDPE is half as thick as the Pro-Grade and also less expensive. For DIYers and part-time stencil users, this option is highly beneficial, as it is not as expensive as the previous variant but can still withstand multiple uses per year. For communities, parks, recreation centers, schools, hospitals, and small businesses that prefer to have their own pavement markings done internally instead of hiring out to contractors, the 1/16" (.060") Light-Duty LDPE is highly recommended. Aimed for customized or one-time use, the thinnest stencil option can greatly benefit the above-mentioned entities as this variety is meant for very limited use and has the lowest price rate.
Have questions? We're here to help!

Speak to an Asphalt Expert!
Contact our Experts
Specification
| | |
| --- | --- |
| Ready To Ship | Yes |
| Stencil Name | Right |
| Stencil Height | 24" |
| Stencil Width | 47" |
| Stencil Type | Word Stencil |
Customer Reviews
Top customer reviews