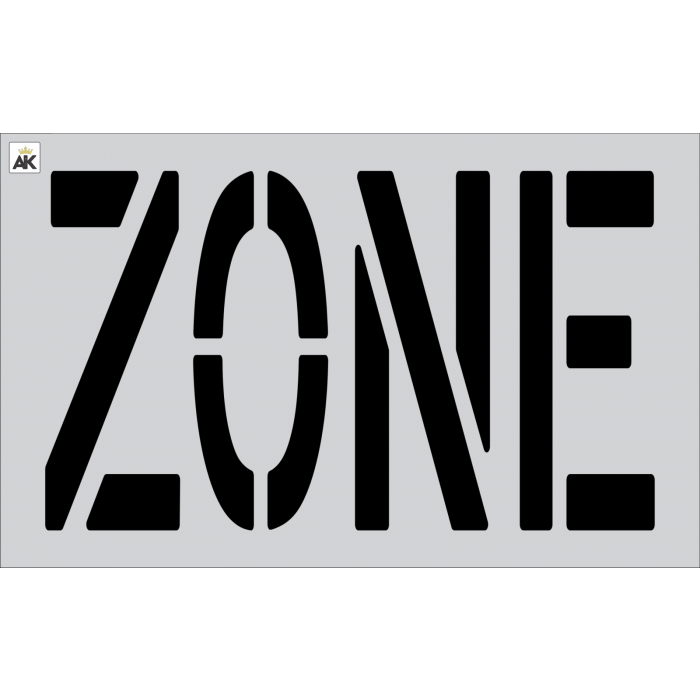 24-inch ZONE Stencil

Read more
Delivered in: 5-10 Business Days
Have questions? We're here to help!

Speak to an Asphalt Expert!
Contact our Experts
The 24" ZONE word stencil provides a very efficient way of indicating specific areas in parking lots, loading docks, warehouses, streets, and establishments such as hospitals, clinics, malls, and restaurants where certain traffic rules need to be observed more carefully. This stencil can be used with other marking guides such as "Parking", "Loading", "Handicap", "School", "Heavy Equipment" and "Restricted" to clearly indicate spots that require additional caution when driving or passing by.

Made with clear LDPE material, the Zone stencil is very flexible and resilient. This product is made in the USA and can withstand strong pressures from spray guns for up to 3000psi. This single-piece marking pattern measures 30" x 47" overall, and has 3 inches worth of extra material on all sides to accommodate oversprays. To ensure professionally done pavement markings, lay the stencil flat and allow to rest for a few minutes before using. This is to ensure that creases and curled edges straighten out to prevent gaps and smudges when in use.

Choose from 4 various thicknesses to fit your project or job requirement: The .080" ALU is strong, durable, and resistant to rust and corrosion. Made from Type 5052 aluminum, this option is ideal for locations with high humidity, rain, and snow. The 1/8" (.125") PRO-Grade LDPE is mostly favored by professional line stripers and contractors due to its high resilience and durability which greatly suits their line of work. The 1/10" (.100") Light-Duty LDPE is great for those who need to use stencils a few times a year, such as part-time contractors or DIYers. The thinnest option is the 1/16" (.060") Light-Duty LDPE, which is meant for very rare or infrequent usage. For property owners, managers, schools, and institutions that do their own line striping and pavement markings, this stencil grade is highly recommended as they would only need to use stencils once or twice a year.
Have questions? We're here to help!

Speak to an Asphalt Expert!
Contact our Experts
Specification
| | |
| --- | --- |
| Ready To Ship | Yes |
| Stencil Name | Zone |
| Stencil Height | 24" |
| Stencil Width | 31" |
| Stencil Type | Word Stencil |
Customer Reviews
Top customer reviews