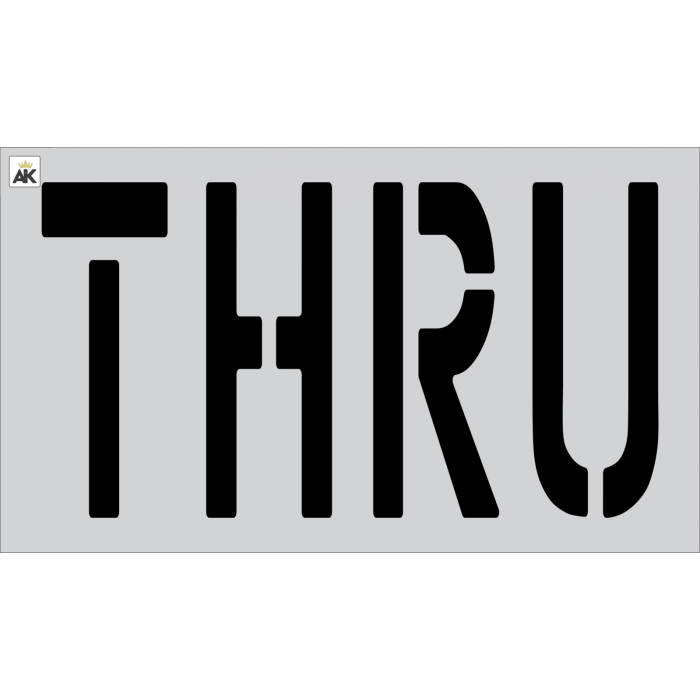 24-inch THRU Stencil - 30" x 50" overall measurement - single sheet

Read more
Through or thru lanes need to be indicated appropriately to ensure a smooth flow in traffic. This is very important especially at intersections, so drivers would know if turning or passing is allowed. The 24" x 9" THRU word stencil is very useful in these cases, as it would ensure fast and accurate markings. When used together with "Lane", "Way" and "Drive", the Thru lane becomes more effective in specifying how drivers and pedestrians should behave on the road.

This 24-inch stencil is made with clear and flexible LDPE plastic that can endure pressures of up to 3000psi from line striping guns and paint sprayers. This single-sheet pavement marking pattern has an overall size of 30 x 50 inches, including a surrounding overspray border of 3 inches per side.

The 24-inch Thru Stencil is offered in 4 varying thicknesses to benefit different job and project requirements. For locations that are constantly exposed to moisture, a rust- and corrosion-resistant stencil is ideal. The .080" ALU type would work perfectly under these conditions. Made with Type 5052 aluminum alloy, the ALU is highly impervious to rusting, so you can use this stencil for a long time without worries. For contractors and line striping professionals that need to use stencils multiple times a day, the 1/8" (.125") PRO-Grade LDPE is highly recommended due to its ability to stand up against the rigorous demands of the industry. The 1/10" (.100") Light-Duty LDPE is made for frequent, but not daily use. Ideal for projects that need stencils a few times a year, this stencil type can work well for DIYers or project-based contractors who only need to use stencils on a case to case basis. The 1/16" (.060") Light-Duty LDPE is made for private sectors, small business owners, communities, or schools that do not require contractors to handle their pavement marking projects. These institutions that only need to repaint or restripe once a year or every two years can greatly benefit from the most affordable stencil grade in our line-up.
Specification
| | |
| --- | --- |
| Ready To Ship | Yes |
| Stencil Name | Thru |
| Stencil Height | 24" |
| Stencil Width | 44" |
| Stencil Type | Word Stencil |
Customer Reviews
Top customer reviews