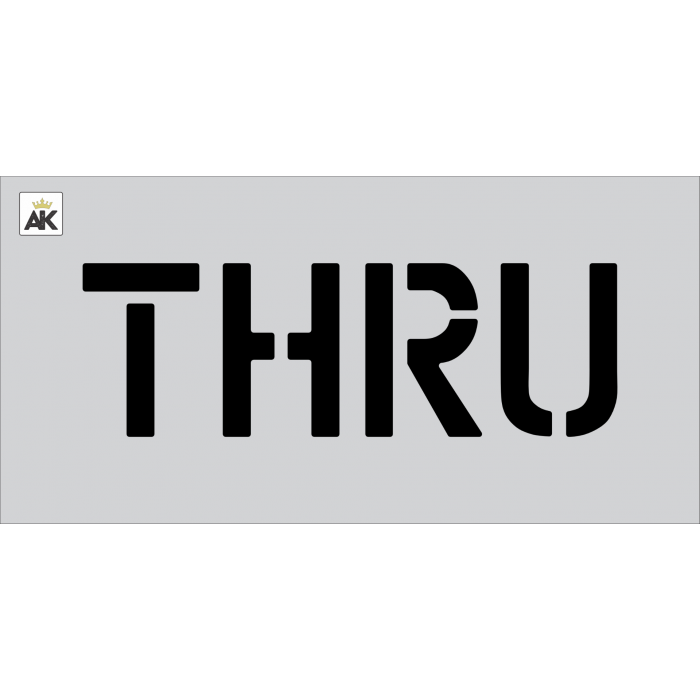 6 THRU Stencil

Read more
The 6" THRU stencil is a very versatile and common industry stencil that is used by professionals for a variety of projects. Any beginner or veteran striper will want to add this to their collection, as it serves plenty of purposes for any large or small job. It is most typically used in drive through lanes or other driving lanes to give drivers and pedestrians clear visibility on where to go. This stencil can be combined with other industry words such as "DRIVE" and "LANE" to give further clarification to citizens. It is made in the USA and offers a warranty that guarantees it to be delivered without any imperfections.

The measurements and specifications of this stencil are compliant with industry standards and are set to ensure that it can fit well in a small space while still being bold and readable by all in the area. When painted, the stencil reaches a width of 21" and a height of 6", with a stroke width of 1" between each character. The stencil itself measures 27" in width and 12" in height, offering several inches on each side of the stencil for overspray allowance.

There are four material grade options that can be selected for the make of your THRU stencil. Each grade has advantages based on what type of project you will be using your stencil for the most. For a long-lasting make, invest in the .080" ALU. This aluminum material is indestructible and can withstand heavy sprays as well as preformed thermoplastic striping techniques. The 1/18" PRO-Grade LDPE is almost as thick and is the most commonly used material in the industry. It can withstand thousands of reuses and last for several years without showing signs of wear or tear. Light-duty grades include the 1/16" LDPE and the .030" HIPS, which offer flexibility and support for custom projects.
Specification
| | |
| --- | --- |
| Ready To Ship | Yes |
| Stencil Name | Thru |
| Stencil Height | 6" |
| Stencil Width | 19" |
| Stencil Type | Word Stencil |
Customer Reviews
Top customer reviews
Customer Questions
are these one time use? or can they be cleaned and used multiple times?
Most contractors clean them and use them a few times. If you are rough with stencils in general, it is possible they would crack on the first go but in general that hasn't been our experience. If you're looking for something with more reusability, we can provide a heavy-duty version of these - just let us know.