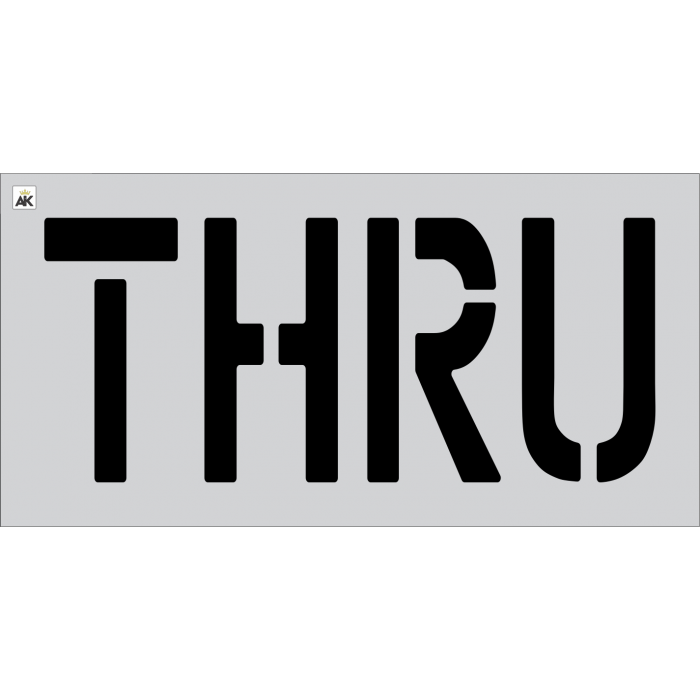 18 THRU Stencil

Read more
The 18" THRU stencil is an industry standard stencil that adds versatility and flexibility to any contractor's or striper's collection. It is often seen marking drive through lanes or lanes that drivers are able to continue through. Its large size allows it to be visible from a distance by moving traffic. This sign is often paired with other industry standard signs such as "LANE" or "DRIVE" to give added direction to onlookers. This stencil is manufactured in the USA and offers a warranty which guarantees the stencil to be free of any impediments or defects that could hinder it from its intended use.

The measurements and specifications of this stencil are compliant with all industry standards and requirements. When painted, the stencil measures 54" wide by 18" high for easy readability. The material itself measures 60" wide by 24" high, allowing several inches of space on all sides to allow for overspray. The stencil is printed on a single sheet for ease of use, cleanup, and storage.

There are four material grade options to choose from for the make of your stencil. The .080 ALU is the most durable and most rigid grade, offering a 5052 aluminum that lasts forever. This stencil grade can also withstand thermoplastic striping. The ?" PRO-Grade LDPE is another durable option, adding longevity and affordability. It can last up to 10 years and withstand thousands of reuses before ever showing any signs of wear. This is the most recommended grade by industry professionals as it always lays flat and stays put for any amount of heavy spraying. The 1/16" LDPE is the counterpart to the PRO-Grade, but with half the thickness. This adds flexibility for a custom or light-duty project. The thinnest grade available is the .030" HIPS, an ultra flexible material that lays flat for a one-time fit.
Specification
| | |
| --- | --- |
| Ready To Ship | Yes |
| Stencil Name | Thru |
| Stencil Height | 18" |
| Stencil Width | 42" |
| Stencil Type | Word Stencil |
Customer Reviews
Top customer reviews