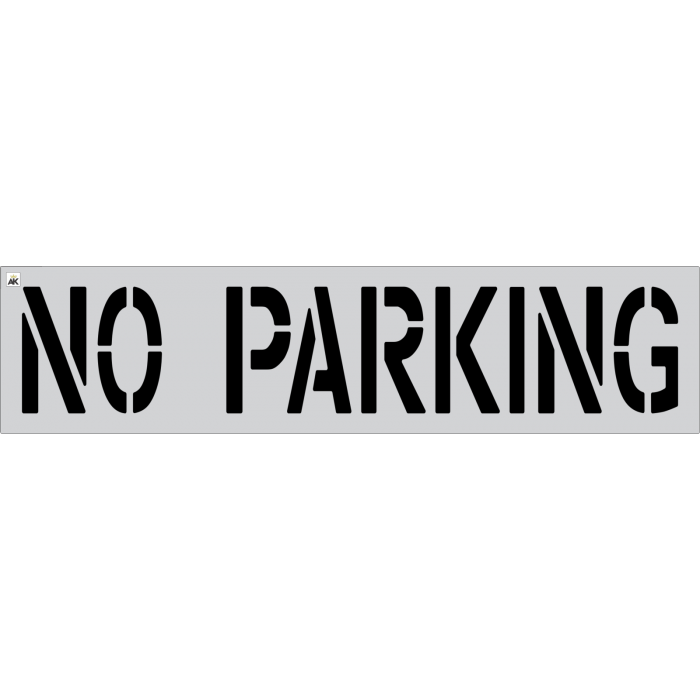 18 NO PARKING Stencil

Read more
The 18" NO PARKING stencil is a two-piece stencil set that beginner and professional stripers alike will find handy. This stencil is a good option for larger parking lot jobs, as its size allows it to be seen by oncoming traffic or big trucks. It can be used to clearly mark areas where parking isn't allowed. It can be stored in a flat space or rolled for convenience. This stencil is made in the USA and offers a warranty that guarantees the product to be delivered without any impediments or defects.

The specifications and measurements of this stencil set are compliant with industry standards. The stencil is cut for accuracy and precision, allowing it to lay flat for a symmetrical fit. When the two pieces are put together, the words "NO PARKING" reach a width of 124" and a height of 18" when printed. The material itself measures 130" wide by 24" high total, adding several inches of space on each side to allow for overspray.

There are four different material grade options to choose from for the make of this stencil. For something durable and long-lasting, invest in the .080 ALU, which is a rigid 5052 aluminum that lasts forever. This is best for heavy-duty projects and thermoplastic extruding. The next thickest material grade is the ?" LDPE, which is named PRO-Grade due to its longevity and durability. It is recommended by most as the industry standard, and can last several long years while being reused thousands of times. For something thinner, consider the 1/16" LDPE. This is the counterpart to the PRO-Grade, but with half the thickness. It is good for light-duty projects and infrequent applications. The thinnest material available is the .030" HIPS, a standard PVC material that offers ultra flexibility for a custom or one-time fit.
Specification
| | |
| --- | --- |
| Ready To Ship | Yes |
| Stencil Height | 18" |
| Stencil Width | 93" |
| Stencil Type | Word Stencil |
Customer Reviews
Top customer reviews
Customer Questions
are these one time use? or can they be cleaned and used multiple times?
Most contractors clean them and use them a few times. If you are rough with stencils in general, it is possible they would crack on the first go but in general that hasn't been our experience. If you're looking for something with more reusability, we can provide a heavy-duty version of these - just let us know.