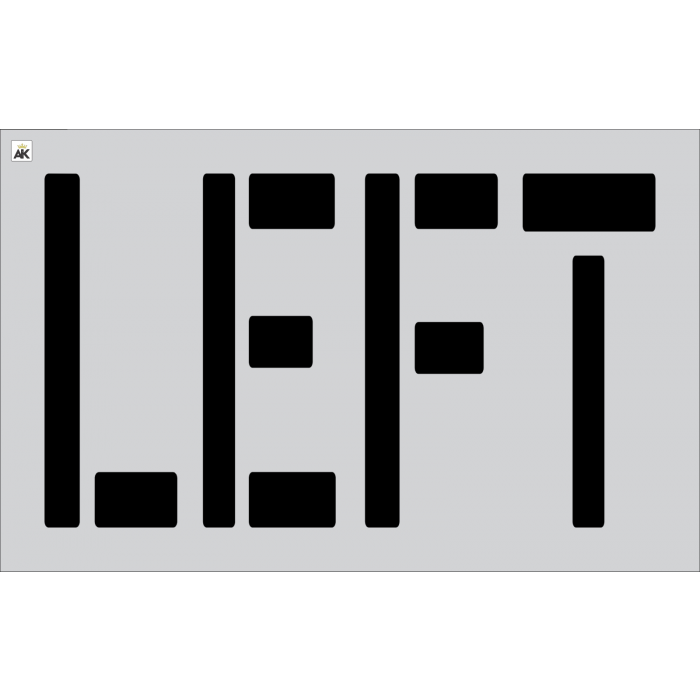 Use the 24-inch LEFT Stencil to help speed up road marking and get more jobs done in a short span of time.

Read more
Directional road markings are important to ensure that proper traffic and pedestrian flow are observed. The 24" x 9" Left word stencil is very efficient when used for this purpose, since it helps for speedy and accurate painting. Use the LEFT stencil with other word stencils such as "No", "Turn", "Lane", and "Keep" to identify specific traffic rules for better compliance and observation.

Our word stencils are made from very flexible yet durable LDPE material, so they can last a very long time when used and cleaned properly. With an overall measurement of 30 x 15 inches, the LEFT stencil includes 3-inch overspray borders on all sides. Made in the USA, this road marking guide is pliable yet tough enough to withstand up to 3000psi of pressure.

Available in 3 different thicknesses, the 24" x 9" Left stencil has the variant to fit all types of projects and jobs. Line striping contractors and road marking professionals choose the 1/8" (.125") PRO-Grade LDPE due to its durability and resilience despite being used multiple times per day, as required by the industry. For DIYers and stenciling projects that do not require usage for more than a few times in a month or a year, the 1/10" (.100") Light-Duty LDPE is ideal. For custom jobs or one-time usage, the thin 1/16" (.060") Light-Duty LDPE is very a smart investment.

With word stencils, there's no need to spend extra time lining up individual letters. This means getting the job done faster, and moving on to another project. More jobs mean more profit!
Specification
| | |
| --- | --- |
| Ready To Ship | Yes |
| Stencil Name | Left |
| Stencil Height | 24" |
| Stencil Width | 42" |
| Stencil Type | Word Stencil |
Customer Reviews
Top customer reviews