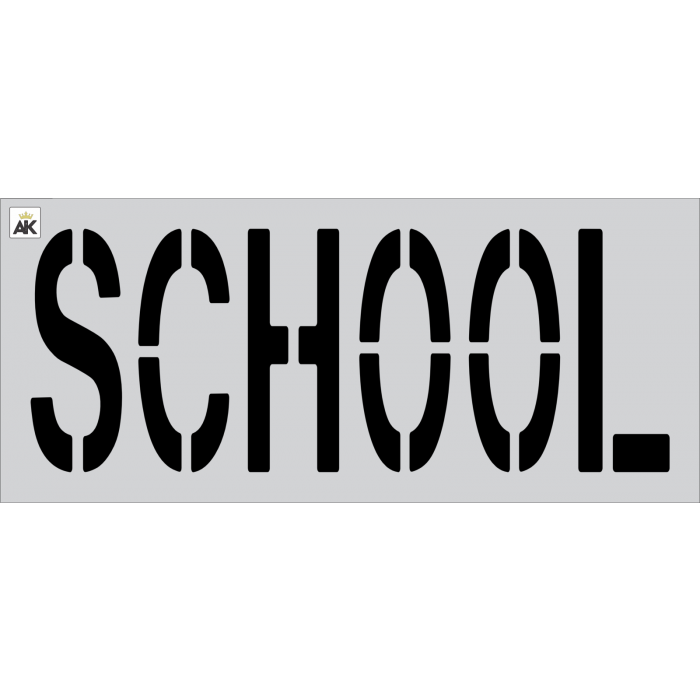 The 24-inch SCHOOL Stencil is large enough to be visible from a distance.

Read more
Delivered in: 5-10 Business Days
Have questions? We're here to help!

Speak to an Asphalt Expert!
Contact our Experts
In 2018, a study conducted about the safety of children in school zones showed that about 25,000 of them get injured every year near schools due to vehicular accidents. For parents, their children's safety is very important, which is why more specific and rigorous traffic laws are put in place to further keep both children and adults alike safe from vehicular accidents. The 24" SCHOOL word stencil is a great piece of tool that can further help ensure road safety, especially in areas near schools. The size of this stencil is large enough to be visible, even from afar - which gives this road marking guide a huge advantage for stencil users. Use the SCHOOL stencil with other road marking patterns such as "Zone", "Slow" and "Down" to create clearer and more specific directions.

The 24-inch School stencil is made from flexible and durable clear low-density polyethylene. This material is ideal for stencils as it is very pliant, yet strong enough to endure high pressures of up to 3000psi. This stencil's overall measurement is 30" x 88" which includes a surrounding overspray border of 3 inches, to prevent excess paint from ruining the final output.

With 3 different thicknesses available, you are guaranteed that we have the corresponding stencil for your various projects and jobs. The thickest option is the 1/8" (.125") PRO-Grade LDPE that is generally chosen by line striping contractors and other pavement maintenance professionals due to its reliability and resilience despite being used on job sites multiple times a day. At half the thickness of the Pro-Grade, the 1/10" (.100") Light-Duty LDPE can benefit DIYers and part-time stencil users as this option is less expensive, but can still be used multiple times a year. The thinnest stencil grade available is the 1/16" (.060") Light-Duty LDPE. This stencil type is recommended for schools, colleges, universities, daycare and learning centers, or any other learning institute that prefer to do their own pavement markings once or twice a year, instead of hiring contractors. This 60mm stencil type is ideal for custom jobs or one-time use.
Have questions? We're here to help!

Speak to an Asphalt Expert!
Contact our Experts
Specification
| | |
| --- | --- |
| Ready To Ship | Yes |
| Stencil Name | School |
| Stencil Height | 24" |
| Stencil Width | 63" |
| Stencil Type | Word Stencil |
Customer Reviews
Top customer reviews