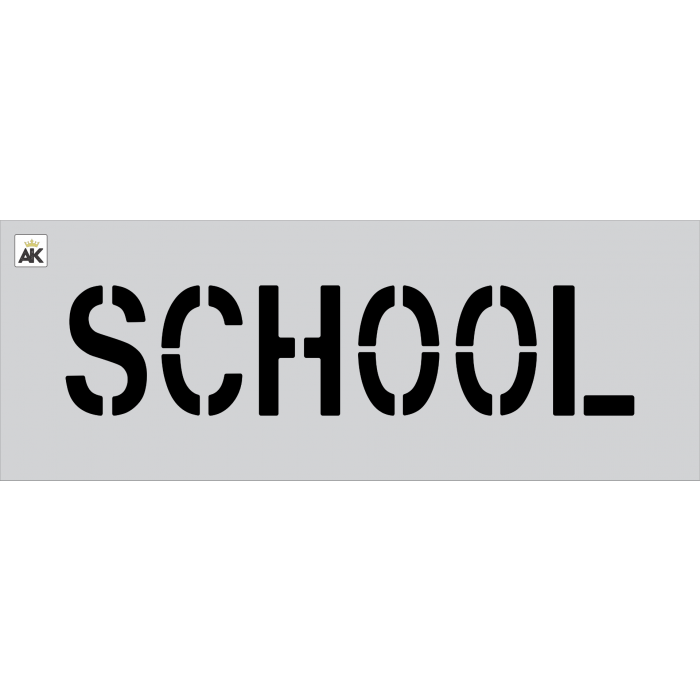 6 SCHOOL Stencil

Read more
The 6" SCHOOL stencil is a useful stencil for any pavement projects revolving around a public or private school. This is a must-have for any striper who wishes to invest in a full range of stenciling projects. This stencil is typically combined with other standard industry stencils such as "ZONE", "XING", or "BUS" to give clear direction to all drivers and passersby. This stencil is flexible yet large enough to be easily seen by all in the area, and with pavement approved paint it can make a bold statement. It is made in the USA and guarantees that it will be free of any defect or impediment.

The measurements of this specialty stencil are made to fit in most school zone areas and meet with standard industry requirements. The stencils are precision cut to match these measurements exactly, guaranteeing a symmetrical and accurate fit. When painted, the stencil will measure a width of 32" and a height of 6" for readability. The material itself measures 38" by 12", so be sure to give yourself plenty of room before placing your stencil down.

There are four material grade options that you can choose from when deciding what your SCHOOL stencil will be made out of. For common and standard usage, the ?" PRO-Grade LDPE is recommended. This is the most commonly used material in this stencil industry, and it guarantees longevity and durability. With this grade, you can use your stencil thousands of times over several years before it shows any signs of wear. There is also the specialty aluminum grade, which is a 5052 aluminum offering .080" of thickness. This grade is indestructible. For something on the light-duty side, consider the 1/16" LDPE for flexibility or the .030" for something ultra thin that can help you with a custom or infrequent stencil project.
Specification
| | |
| --- | --- |
| Ready To Ship | Yes |
| Stencil Name | School |
| Stencil Height | 6" |
| Stencil Width | 27" |
| Stencil Type | Word Stencil |
Customer Reviews
Top customer reviews
Customer Questions
are these one time use? or can they be cleaned and used multiple times?
Most contractors clean them and use them a few times. If you are rough with stencils in general, it is possible they would crack on the first go but in general that hasn't been our experience. If you're looking for something with more reusability, we can provide a heavy-duty version of these - just let us know.