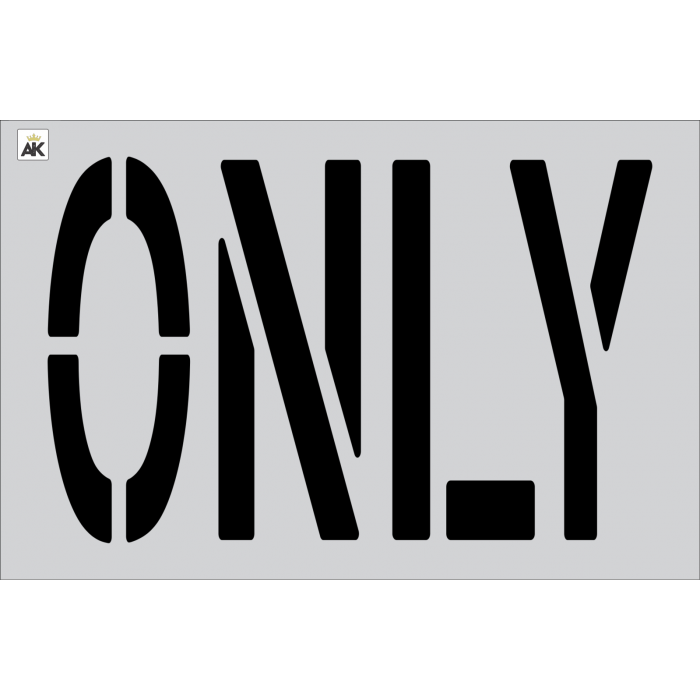 24-inch ONLY Word Stencil

Read more
Delivered in: 5-10 Business Days
Have questions? We're here to help!

Speak to an Asphalt Expert!
Contact our Experts
The 24" x 9" ONLY stencil is very functional when used with other word stencils such as "Staff", "Employee", "Exit", "Entrance", and "Authorized Personnel". These combinations convey clearer and easier to understand rules in areas such as parking facilities, entrances and exits, loading docks, and specific building sections where only limited access is allowed.

This 24-inch word stencil is made from pliant clear LDPE with an overall measurement of 60" x 30". Three-inch overspray borders are added on all sides to ensure that drops from excess paint don't ruin the final output. Low-density polyethylene is a very flexible yet resilient plastic material, which is why this word stencil can hold up against heavy pressures from paint spray guns of up to 3000psi.

With 3 different thicknesses to choose from, professionals and DIYers can greatly benefit from this road marking pattern. Professional line stripers and pavement maintenance experts love the 1/8" (.125") PRO-Grade LDPE as it can withstand the rigorous usage as demanded by the industry. For DIYers that do not need to use stencils as frequently as contractors, the 1/10" (.100") Light-Duty LDPE is ideal as it can endure medium to light usage. For infrequent uses and customized jobs, the 1/16" (.060") Light-Duty LDPE would prove to be very useful. Although the thinnest among the available stencil grades, this 60mm stencil would work well for property owners, managers, communities, schools, and other establishments that do their own pavement marking and line striping once or twice a year.
Have questions? We're here to help!

Speak to an Asphalt Expert!
Contact our Experts
Specification
| | |
| --- | --- |
| Ready To Ship | Yes |
| Stencil Name | Only |
| Stencil Height | 24" |
| Stencil Width | 39" |
| Stencil Type | Word Stencil |
Customer Reviews
Top customer reviews