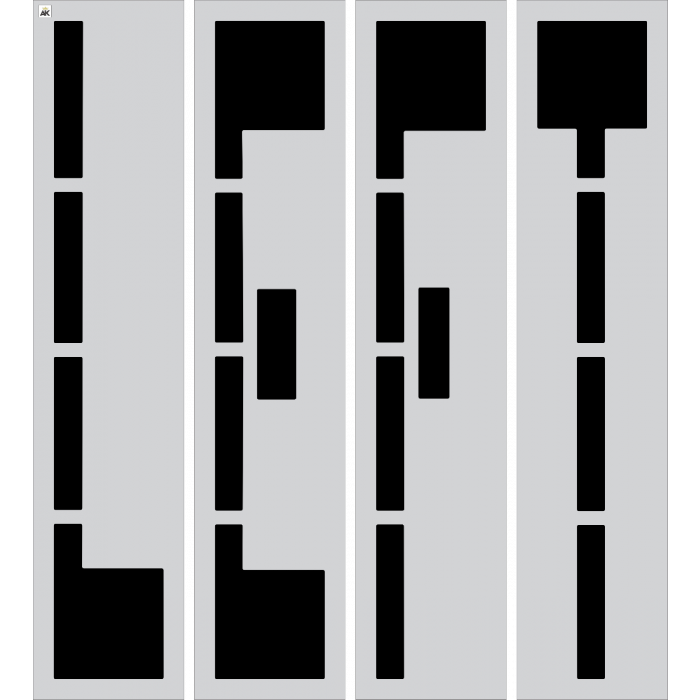 96 LEFT Stencil

Read more
The 96" LEFT stencil is a newer stencil in the industry and is designed to meet all FHWA and MUTCD specifications. Each letter of the word LEFT is placed on its own stencil, with five individual pieces coming together as a kit for easy application, easy cleaning, and easy mobility. The stencils can be easily stored and reused as many times as possible for any large or small scale project. Each letter can be adjusted to be as close or as far away from each other as the project needs. This stencil is commonly used for lanes in which oncoming traffic can be directed to turn a certain way. This word can be paired with other industry signs such as "TURN", "ONLY", or "AHEAD" for added clarity. This stencil is manufactured in the USA and comes with a warranty that guarantees that it will be free of any defects or impediments.

The most common material grade for this type of stencil is the ?" PRO-Grade LDPE, which offers durability, longevity, and affordability. This rigid material is built to last, guaranteeing over seven years of use when properly cared for. The thick material allows you to use and reuse it thousands of times before it ever starts to show signs of warping or wear. It lays flat out of the box and is heavy enough to stay in place while withstanding up to 3000psi of spray painting power.

The measurements of the stencil can be adjusted according to the specifications of your specific project, and are designed to meet industry standards. When painted, the word typically measures 76" in width and 96" in height. The elongated height allows for easy readability for oncoming traffic or those coming from a distance. Each letter measures 16" wide individually, with a 4" overlap space between each letter to adjust for spacing. The material itself measures 24" wide per piece, with a combined height of 104". This extra space on each side of the stencil allows for plenty of overspray room.
Specification
| | |
| --- | --- |
| Ready To Ship | Yes |
| Stencil Name | Left |
| Stencil Height | 96" |
| Stencil Width | 16" |
| Stencil Type | Word Stencil |
Customer Reviews
Top customer reviews
Customer Questions
are these one time use? or can they be cleaned and used multiple times?
Most contractors clean them and use them a few times. If you are rough with stencils in general, it is possible they would crack on the first go but in general that hasn't been our experience. If you're looking for something with more reusability, we can provide a heavy-duty version of these - just let us know.