96" FHWA/DOT Elongated Turn Arrow Stencil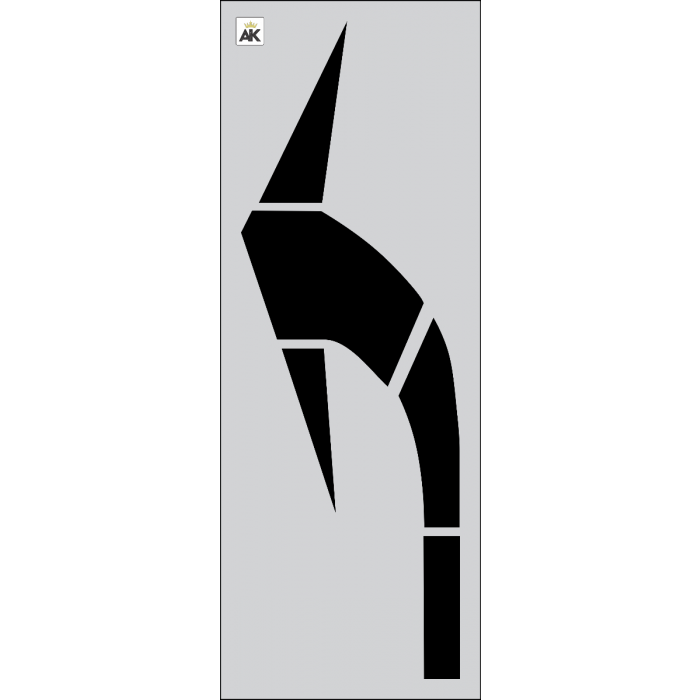 96 FHWA/DOT Elongated Turn Arrow Stencil

Read more
The 96" FHWA/DOT elongated turn arrow stencil is a specialty stencil that is made to be easily seen by drivers and passersby from a distance. It is a useful stencil for turn lanes, parking garage directions and construction sites. This is one of the newer stencils in the industry and is designed by the FHWA to be more narrow than the base of a car so that the tires will not wear out the design. This sleek and skinny arrow promises to be longer lasting and more vibrant against the pavement as it will see less wear and tear over time. It is a must-have for any contractor's stencil collection as it adds variety and usefulness to any public or private roadway project.

The specifications and measurements of this stencil are cut for accuracy and are meant to be elongated for easy visibility. When painted, the arrow measures 32" in width and 96" in height, and can easily fit inside of a left or right turn lane. The material itself measures 32" by 102", allowing several inches of space on each side of the stencil to allow for overspray. The bridging around the stencil meets industry standards and is designed to improve the accuracy and visibility of the arrow once painted.

There are four different material grade options to choose from when deciding upon the make of your turn arrow stencil. For a one-time or custom project, the thinner grades are flexible and affordable. The 1/16" LDPE is flexible and durable, laying flat out of the box for a perfect fit. The .030" HIPS is the thinnest grade available, offering an industry standard PVC material that can last a long time. For something more heavy duty, the ?" PRO-Grade LDPE is the most common material grade available. This is most used by professionals in the industry, as it provides years of use and a sturdy stencil that does not easily wear or tear. The thickest grade available is the .080 ALU, which is a rigid 5052 aluminum that offers indestructibility and infinite use.
Specification
| | |
| --- | --- |
| Ready To Ship | Yes |
| Stencil Name | Turn |
| Stencil Height | 96" |
| Stencil Width | 32" |
| Stencil Type | Directional Stencil |
Customer Reviews
Top customer reviews
Customer Questions
are these one time use? or can they be cleaned and used multiple times?
Most contractors clean them and use them a few times. If you are rough with stencils in general, it is possible they would crack on the first go but in general that hasn't been our experience. If you're looking for something with more reusability, we can provide a heavy-duty version of these - just let us know.