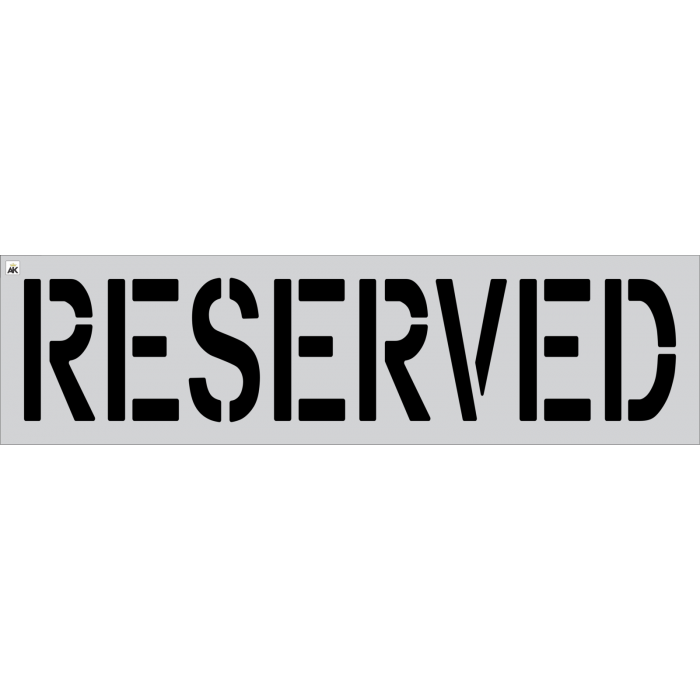 18-inch RESERVED Stencil

Read more
The 18" RESERVED word stencil is made using clear and flexible LDPE material, and can withstand up to 3000psi of pressure when applying paint with a striping machine. The see-through material allows you to see exactly where you want to paint, and ensure that every marking is uniformly aligned.
This stencil can be combined with other industry standard word stencils such as "ZONE" and "ONLY" for easy to understand and specific directions. The 18-inch size makes it ideal to use in large parking lots or loading docks since it can prove to be highly visible even at night when used with reflective glass beads.
Available in 4 different thicknesses, the 18" Reserved Stencil measures 24" x 89" overall, and has a 3-inch space around the text to account for overspray. This stencil is available in the following options: The 1/16" (.060") Light-Duty LDPE is a practical choice for infrequent or one-time use. The 1/10" (.100") Light-Duty LDPE is recommended for medium to light usage since it is not as thick as the Pro-Grade, but can still withstand high-pressure spray painting. This is great for owners and managers who need to repaint their parking lots or garage-for-rent spaces every few years or so. The 1/8" (.125") PRO-Grade LDPE is for professional line stripers who use stencils multiples times per day when working on projects. This option is highly durable and can be used over and over so long as proper cleaning and storage are observed. And then, there's the .080" ALU made using high-quality 5052 aluminum and precision-cut with a CNC router. Aluminum stencils are really sturdy and corrosion-resistant, so you get to use them for a really long time.
So, if you are a professional or start-up line striping company and is in need of stencils to ensure a speedy yet accurate output, using word stencils is a smart course of action. Not only will it ensure crisp and clean markings, using word stencils helps get the job done sooner compared to having to paint the letters individually.
Specification
| | |
| --- | --- |
| Ready To Ship | Yes |
| Stencil Name | Reserved |
| Stencil Height | 18" |
| Stencil Width | 83" |
| Stencil Type | Word Stencil |
Customer Reviews
Top customer reviews
Customer Questions
are these one time use? or can they be cleaned and used multiple times?
Most contractors clean them and use them a few times. If you are rough with stencils in general, it is possible they would crack on the first go but in general that hasn't been our experience. If you're looking for something with more reusability, we can provide a heavy-duty version of these - just let us know.