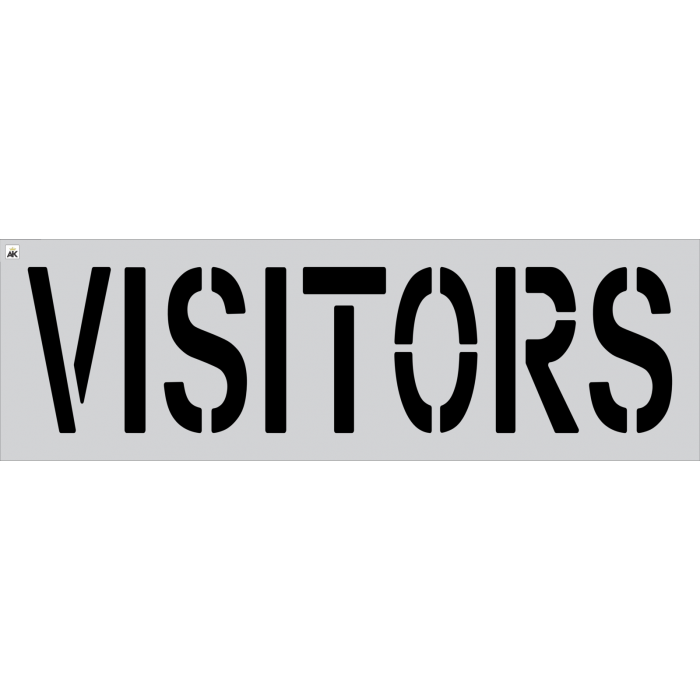 18 VISITORS Stencil

Read more
FREE SHIPPING
Delivered in: 5-10 Business Days
Have questions? We're here to help!

Speak to an Asphalt Expert!
Contact our Experts
The 18" VISITORS stencil is a handy and versatile stencil that is useful to any contractor who is invested in parking lot projects. This common sign is often used in large parking lots where special stalls are reserved for visitors only. It can be used alone or combined with other industry signs such as "ONLY" and "PARKING" for added direction. Stripers have the option of taping off the "S" to simply use the singular word "VISITOR". This stencil is also large enough to be used on the street. It is made in the USA and comes with a warranty that guarantees that it will be free of any impediments or defects that could hinder it from use.

The specifications and measurements of this stencils are compliant with all industry standards and regulations. When painted, this bold stencil measures 94" in width and 18" in height. The material itself measures 100" wide by 24" high, giving plenty of space on each side to allow for overspray. The stencil is printed on a single sheet which makes it easy for all beginner and profesional stripers alike.

For a range of durability and flexibility, you can decide which material grade your stencil will be made out of. Each stencil lays flat out of the box and can be reused as many times as the grade allows. For long-time use, try the 0.080" ALU or the ?" LDPE PRO-Grade, which allow you to reuse the same stencils thousands of time without any wear or tear. The ALU comes with a thermoplastic aluminum for special projects to make it quite indestructible. For something on the lighter side, the 1/16" LDPE and the 0.30" HIPS are thin materials that offer a quality stencil to be used once or twice. These are cost effective options which can ensure accuracy as they lay flat.
Have questions? We're here to help!

Speak to an Asphalt Expert!
Contact our Experts
Specification
| | |
| --- | --- |
| Ready To Ship | Yes |
| Stencil Name | Visitors |
| Stencil Height | 18" |
| Stencil Width | 60" |
| Stencil Type | Word Stencil |
Customer Reviews
Top customer reviews