18" x 12" Number Kit 12-pc Kit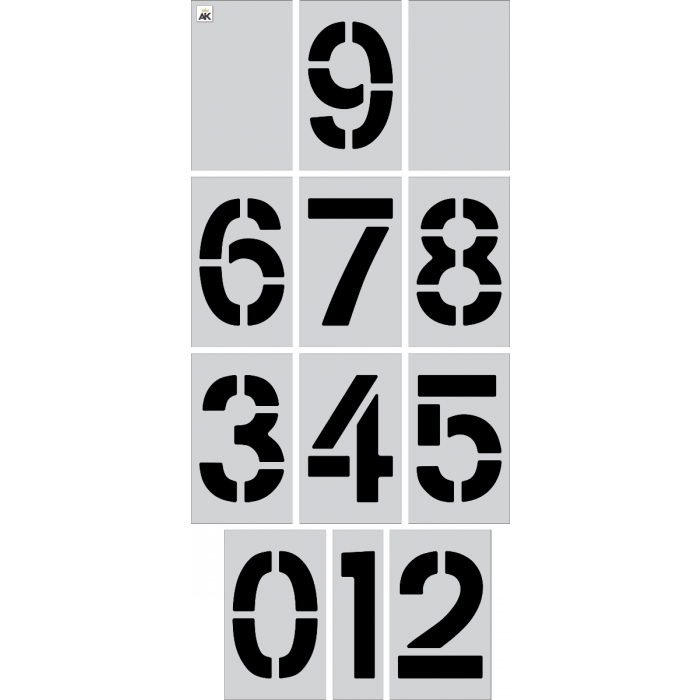 18 x 12 Number Kit Stencil

Read more
FREE SHIPPING
Delivered in: 5-10 Business Days
Have questions? We're here to help!

Speak to an Asphalt Expert!
Contact our Experts
The 18" x 12" number kit stencil is a versatile and handy kit for any contractor's or striper's collection. These numbers are typically used to mark spaces in parking lots, distribution centers, truck stops, rail yards and construction sites. It can also be used to mark speed limits and mph signs directly onto the pavement. This convenient kit comes with 12 pieces, which include the numbers 0 through 9 plus two blank end pieces. It can be upgraded to an 18-piece kit for an additional 0,1,2,3,4, and 5. This stencil kit is made in the USA and comes with a warranty that guarantees the product to be delivered without any impediments or defects.

The measurements and specifications of these stencils comply with industry standards and are designed for use in many public and construction areas. Each character measures 12" wide by 18" high when printed. The material itself measures 14" wide by 22" high, giving several inches of space on each side to allow for overspray.

There are four material grade options available for you to choose from for the make of your stencils. For heavy-duty and long term use, the .080 ALU is the most durable option. This rigid 5052 aluminum will last forever and can endure any type of job. It is also good for thermoplastic extruding. The ?" PRO-Grade LDPE is the most commonly used material for this type of stencil, and is an industry standard. It can withstand thousands of reuses over several years before ever showing signs of wear or tear. The 1/16" LDPE is the counterpart to the PRO-Grade, but with half the thickness for added flexibility. This material grade is good for infrequent uses. The .030" HIPS is the thinnest option available, offering an ultra-flexible fit for a custom or one-time job.
Have questions? We're here to help!

Speak to an Asphalt Expert!
Contact our Experts
Specification
| | |
| --- | --- |
| Ready To Ship | Yes |
| Stencil Height | 18" |
| Stencil Width | 12" |
| Stencil Type | Number Stencil |
Customer Reviews
Top customer reviews