6" Number Kit Stencil 0-9 12-pc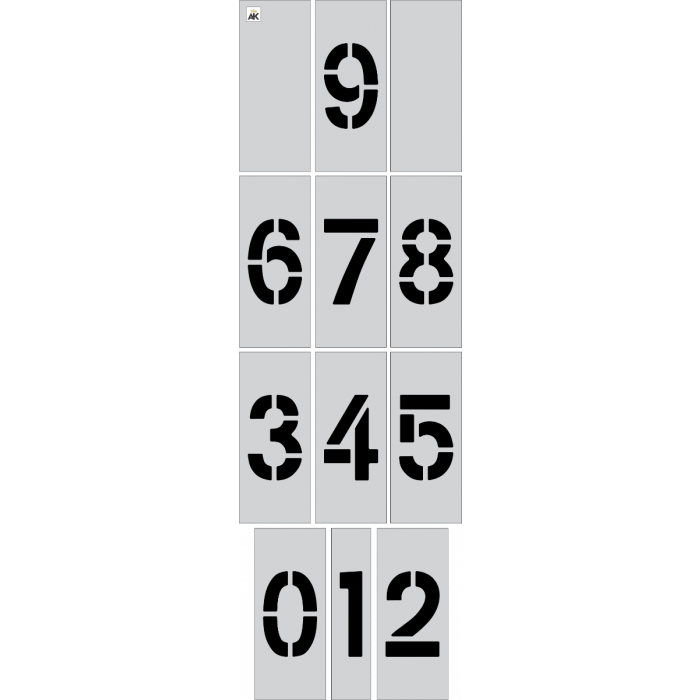 6 Number Kit Stencil

Read more
For a versatile numbering project, consider the 6" number kit stencil. These stencils are bigger than some of the industry standard 4" stencils, but are still flexible enough to fit on to most pavements and spaces where numbering is needed. There are several advantages to this numbering kit, most of which involve its easy to use application and easy cleanup. Beginners and pros alike can enjoy this number kit for their collection, as it can be used in any parking lot, pallet bay, garage, or warehouse project for easy visibility.

The kit contains stencils of the numbers 0 through 9, plus two additional blank pieces for edging. Each stencil is cut with precision to meet exact measurements and requirements, and the plastic around each number is edged with a 1" spacing. This makes it so that when put together, each number will have a perfect 2" spacing between them, making for easy readability to any passersby. When painted, each number will have a height of 6" and a width of 4.5". The material is 6.5" wide by 10" high, giving plenty of space between each edge for overspray and easy setup. The stencils are shipped with a warranty that guarantees that they will be free of any defects that could hinder its use in any way.

There are four stencil grade options to consider for your number kit stencils. Each grade offers durability and flexibility, and can be used for either heavy duty or one-time custom projects. For frequent use, the ?" LDPE and the .080" ALU are durable options. They are affordable due to their longevity, allowing you to reuse the stencils thousands of times over several years with no wear and tear. If you simply need the stencils for a custom or infrequent use, the 1/16" LDPE or the .030" HIPS may be more cost effective. These are flexible yet still durable enough to lay flat out of the box and withstand a perfect paint job.
Specification
| | |
| --- | --- |
| Ready To Ship | Yes |
| Stencil Height | 6" |
| Stencil Width | 3.75" |
| Stencil Type | Number Stencil |
Customer Reviews
Top customer reviews
Customer Questions
are these one time use? or can they be cleaned and used multiple times?
Most contractors clean them and use them a few times. If you are rough with stencils in general, it is possible they would crack on the first go but in general that hasn't been our experience. If you're looking for something with more reusability, we can provide a heavy-duty version of these - just let us know.