12" Number (0-9) Stencil Kit 12-pc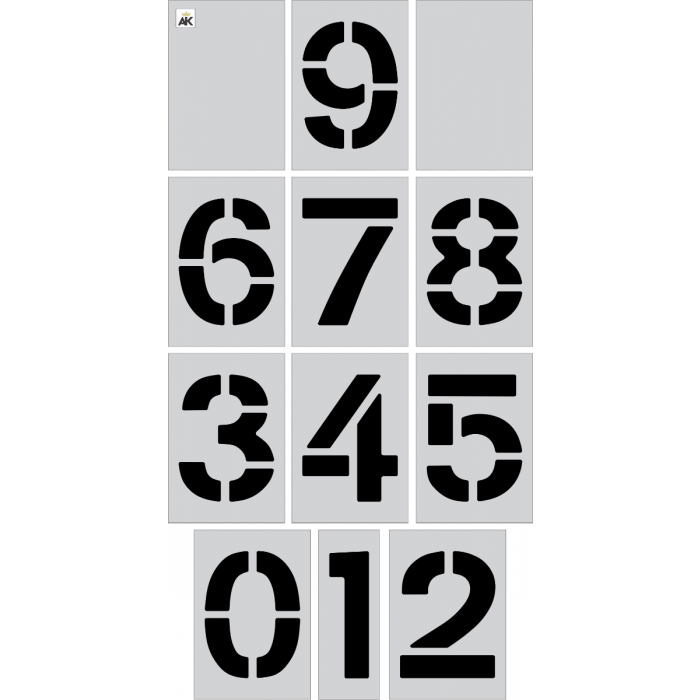 12 Number Kit Stencil

Read more
The 12" number kit stencil set is a useful and handy kit to have for a variety of striping and contracting projects. Anyone who is invested in parking lot, roadway, or construction site jobs can get a lot of uses out of this stencil. The size and shape of these specific stencils make them ideal for numbering parking stalls, sidewalks, signs, and more. They are small enough to fit in convenient spaces, but large enough to be visible and uniform. These stencils come in a set of 12, which includes the numbers 0 through 9 plus an additional two blanks. It can be upgraded to an 18-piece kit if you require an additional 0, 1, 2, 3, 4, and 5 stencil for heavy duty work. Each stencil is made in the USA, and is equipped with a warranty that guarantees the product to be free of any impediments or defects.

The stencils come with 2" of extra space on all sides to allow for overspray, giving you a clean spray each time. They reach the industry standard of 12" high and 9" wide when painted, clearly visible to onlookers. The material itself measures 11" high by 16" wide, giving 2" of space between each number for accurate spacing.

Choose between four different material grades for the make of your stencil. If you're invested in a heavy-duty project that requires frequent use of your number kit, the .080 ALU is the thickest option. This rigid aluminum will last forever, withstanding even the heaviest of projects. It is also good for thermoplastic extruding. The next thickest material available is the ?" PRO-Grade LDPE, which is an industry standard. This common material is the most used for this type of stencil as it provides durability for many years. If you're interested in something thinner, the 1/16" LDPE is the counterpart to the PRO-Grade. It offers half the thickness for flexibility. This grade is good for less frequent or light-duty uses. The .030" HIPS is the thinnest grade available, laying flat out of the box for one-time use.
Specification
| | |
| --- | --- |
| Ready To Ship | Yes |
| Stencil Name | Parking |
| Stencil Height | 12" |
| Stencil Width | 9" |
| Stencil Type | Number Stencil |
Customer Reviews
Top customer reviews
Easy order, good ship time

It was easy to order, and didn't take long to get delivered. Order was what I ordered, in great shape.
Customer Questions
are these one time use? or can they be cleaned and used multiple times?
Most contractors clean them and use them a few times. If you are rough with stencils in general, it is possible they would crack on the first go but in general that hasn't been our experience. If you're looking for something with more reusability, we can provide a heavy-duty version of these - just let us know.