4" Number (0-9) 12-pc Stencil Kit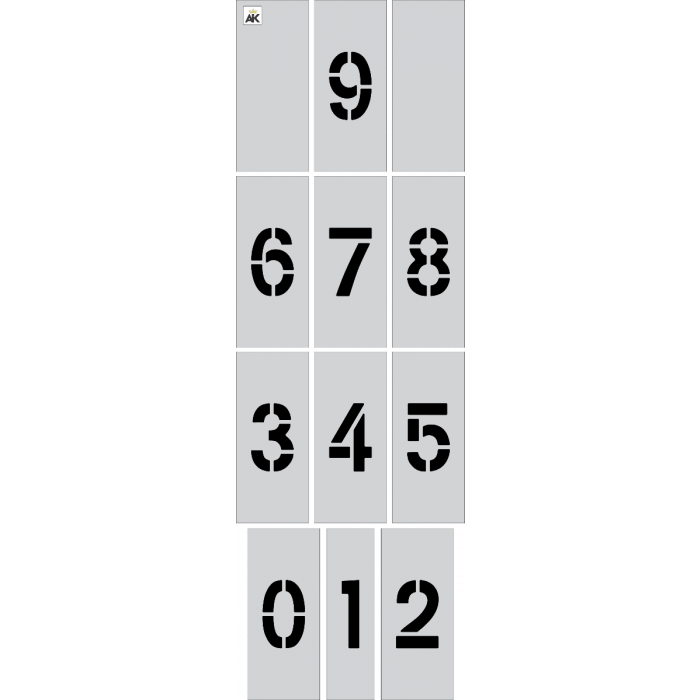 There is a 2" space on the top and bottom of each number in the parking lot stencils package to accommodate overspray.

Read more
Advanced Material
Wide Range and Multi-Purpose
Easy to Store and Use
FREE SHIPPING
Delivered in: 5-10 Business Days
For an easy to use number kit that can be painted on pavements and curbs, the 4" number kit is an ideal option. It is a cost effective kit that is CNC cut for precision while being flexible enough to fit over even the tightest or most uneven of curbs. Each number in the stencil kit allows 2" of space on the top and bottom of the stencil for overspray. While the kit is specifically designed for use on curbs, it can be used on flat pavements as well. The 12 piece kit comes with the numbers 0 through 9 with an additional two plank pieces to be used as blanks. For an upgrade, you can receive an extra 0 through 5 in an 18 piece kit.

The specifications of each stencil meet industry standards and Federal requirements. Each piece is equal in height and width to allow for perfect spacing and accurate painting. When painted, each number will show 4" in height and 3" in width upon the pavement. The stencil itself measures 5" wide by 8" high, so make sure you have enough room to work with before starting your striping project. Each stencil is guaranteed to be without any defects or blemishes that could impede it from working to its full potential.

Decide which type of project you will need your 4" number stencils for before selecting a material grade. There are four options to consider, and each can be beneficial and cost effective to your painting project. If you only plan on using the number stencils a few times, consider the 1/16" LDPE. It provides both durability and flexibility, laying flat and staying put for sparing use. The 030" HIPS is also an option, as it provides an ultra thin stock that can be easily transported. For a more durable project, the industry standard grade is the ?" LDPE. This PRO-Grade material can be reused thousands of times and over several years before showing any signs of warping or wear. For something even thicker, the .080" ALU provides rigidity and a solid structure for infinite use.
Specification
| | |
| --- | --- |
| Ready To Ship | Yes |
| Stencil Name | Parking |
| Stencil Height | 4" |
| Stencil Width | 2.5" |
| Stencil Type | Number Stencil |
Customer Reviews
Top customer reviews
Customer Questions
are these one time use? or can they be cleaned and used multiple times?
Most contractors clean them and use them a few times. If you are rough with stencils in general, it is possible they would crack on the first go but in general that hasn't been our experience. If you're looking for something with more reusability, we can provide a heavy-duty version of these - just let us know.