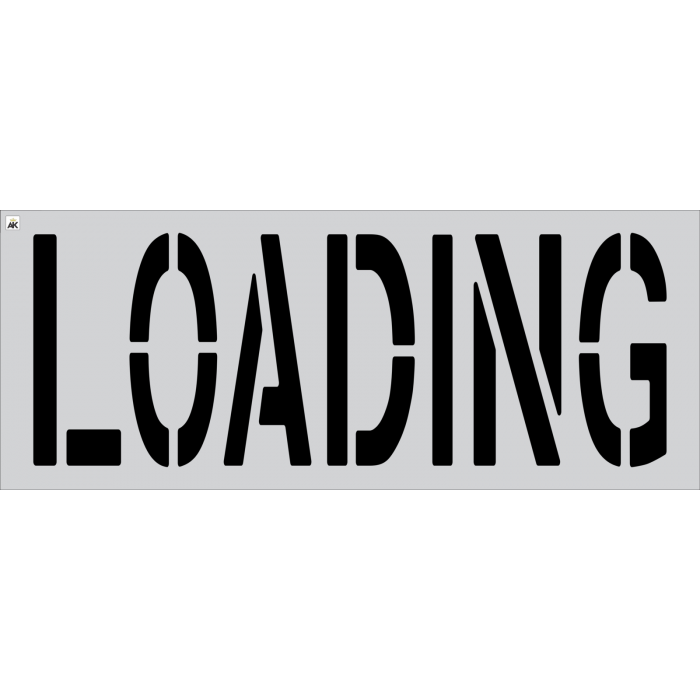 24-inch LOADING Stencil

Read more
Using stencils to mark specific areas or zones allow for speedy and accurate work while reducing the contractor's fatigue and stress. Word stencils such as this 24" x 9" Loading" stencil offer an easier and hassle-free option compared to painting letters individually or painting free-style without marking guides. When used with other word stencils such as "Only", "Zone" and "Area", this 24-inch marking pattern provides a more specific identification for better recognition.

Stencils can be made from different materials, however, the most note-worthy and reliable option is low-density polyethylene. Our LDPE stencils are clear, sturdy and very tough so they can withstand up to 3000psi of pressure from line striping spray guns. The 24x9-inch Loading stencil measures 30 x 95 inches overall, including the 3-inch overspray borders on all four sides. Output measurement is 24 x 89 inches.

The Loading stencil is offered in 3 varying thicknesses to fit all types of job and project requirements. The thickest option and generally favored by professionals is the 1/8" (.125") PRO-Grade LDPE. The 1/10" (.100") Light-Duty LDPE is half as thick as the Pro-Grade LDPE and is ideal if you only need to use stencils a few times a year. For projects that require customized cut-outs or for one-time use, the 1/16" (.060") Light-Duty LDPE would work magnificently.

It is recommended to clean stencils before storing to ensure longevity and optimal performance in every use. Peel off dried paint by carefully flexing the LDPE material. If residue build-up is quite thick, wash the stencil with clean water and a gentle soap or use the proper solvent, depending on the type of paint used. Allow the stencil to dry completely before storing.

We also suggest to hang the stencil against the wall or lay it flat inside a container or box to retain its flatness. Drill small holes on the corners of the stencil and hang on nails or pins. Never hang your stencils using the bridges of the cut-outs, as this can tear off the thin strips of plastic material and ruin the product.
Specification
| | |
| --- | --- |
| Ready To Ship | Yes |
| Stencil Name | Loading |
| Stencil Height | 24" |
| Stencil Width | 67" |
| Stencil Type | Word Stencil |
Customer Reviews
Top customer reviews