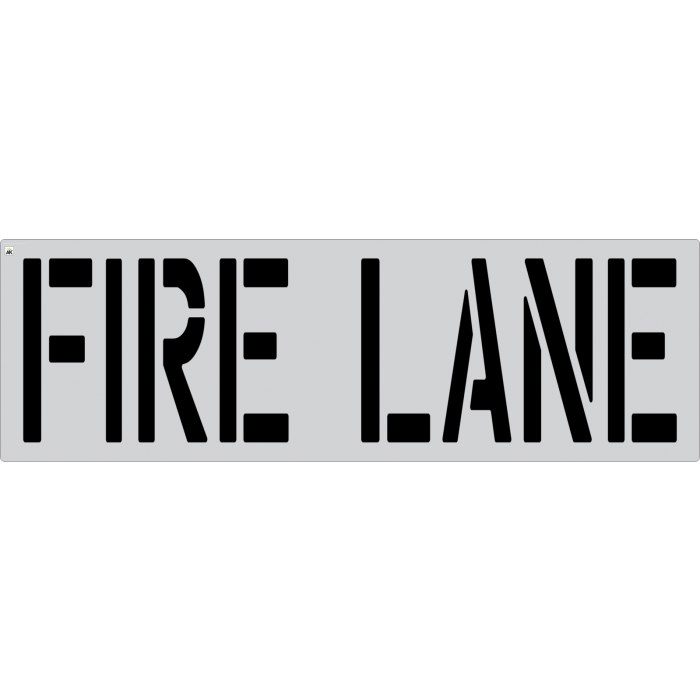 The 24x9-inch FIRE LANE Stencil helps ensure that emergency lanes are identifiable properly marked.

Read more
The 24" x 9" Fire Lane word stencil comes in a single sheet, making it a convenient option and smart investment. Instead of having to line up individual letters or words, this stencil ensures that you can finish marking numerous lanes in a short span of time. This product is made in the USA using durable and flexible low-density polyethylene (LDPE). In addition, the Fire Lane stencil can withstand pressures of up to 3000psi and will last for many years even after multiple uses.

This stencil size is ideal for marking narrow lanes, such as in parking lots or garage rental facilities, as opposed to the wider lanes in highways and freeways. With 3 varying thickness options available, you are assured that we have the right type of stencil fit for your projects. For professional contractors and line stripers, the 1/8" (.125") PRO-Grade LDPE is the most ideal option, since this stencil grade can last a long time even with multiple daily usage. The 1/10" (.100") Light-Duty LDPE is nearly half the thickness of the Pro-Grade, which makes it a practical choice if you only need to use stencils a few times a year. For one-time usage or custom-fit jobs, the 1/16" (.060") Light-Duty LDPE is the most practical and convenient option. Being the thinnest variant offered, this 60mm stencil is ideal for institutions, schools, small businesses and other establishments that prefer to do their own pavement marking and line striping once or twice a year.
Specification
| | |
| --- | --- |
| Ready To Ship | Yes |
| Stencil Name | Fire Lane |
| Stencil Height | 24" |
| Stencil Width | 86" |
Customer Reviews
Top customer reviews