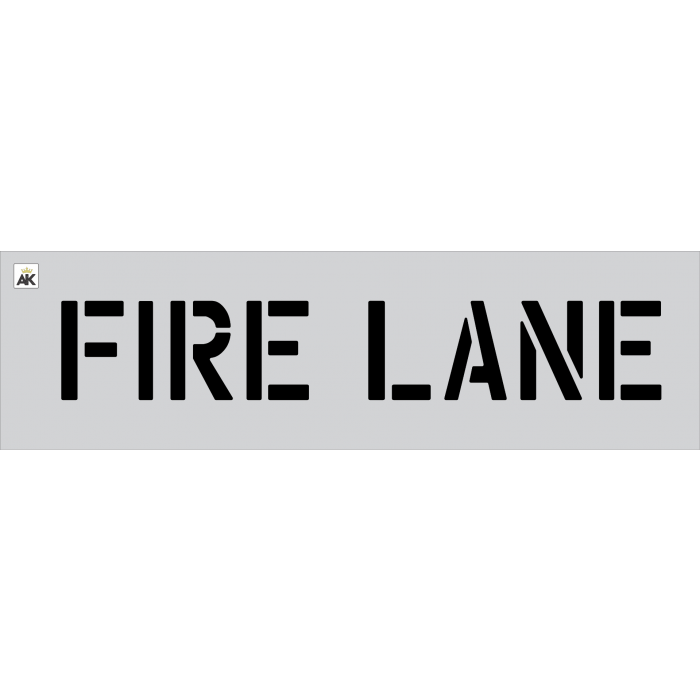 Any striper, new or experienced, who works on federal or state projects where a fire lane is being used must utilize this pavement stencil.

Read more
Lightweight and resilient LDPE
Both experts and do-it-yourselfers will find it perfect
Extremely simple to clean
FREE SHIPPING
Delivered in: 5-10 Business Days
Have questions? We're here to help!

Speak to an Asphalt Expert!
Contact our Experts
The 6" FIRE LANE stencil is a factory direct product that offers flexibility and versatility for a number of professional striping projects. This is a required product for any beginning or veteran striper who invests in Federal and state projects where a fire lane is in use. The stencil offers bridging that provides a clean cut that leaves a vibrant impression upon the pavement. Drivers and passersby alike will be able to clearly see the words printed against the background of the road. It is made in the USA and comes with a warranty that guarantees the product to be free of any defects that could hinder it from its full use.

This standard 6" FIRE LANE stencil comes in a variety of material grades that have an array of advantages based on the type of project needed. The ?" LDPE, 1/16" LDPE, 1/32" LDPE and durable aluminum grades are available for this single stencil cut. The ?" LDPE is the industry standard, and the most common material used by professionals. It will allow the stencil to last for several years or thousands of reuses before showing signs of wear. The 1/16" and 1/32" LDPE are ultra thin products that offer flexibility while still being durable enough to stay put during heavy spray paint jobs. The .080 ALU is a rigid aluminum option that lasts forever and saves money over time.

The measurements of this stencil comply with all industry standards, and are as follows: The painted stencil will measure 43" wide by 6" high, with a stroke width of 1". The material measures 50" wide by 12" high, allowing plenty of room for overspray and rigid placement.The stencil is cut with versatility in mind, allowing it to be placed on any type of pavement or surface where a direct fire lane designation is needed.
Have questions? We're here to help!

Speak to an Asphalt Expert!
Contact our Experts
Specification
| | |
| --- | --- |
| Ready To Ship | Yes |
| Stencil Name | Fire Lane |
| Stencil Height | 6" |
| Stencil Width | 37" |
| Stencil Type | Word Stencil |
Customer Reviews
Top customer reviews
Customer Questions
are these one time use? or can they be cleaned and used multiple times?
Most contractors clean them and use them a few times. If you are rough with stencils in general, it is possible they would crack on the first go but in general that hasn't been our experience. If you're looking for something with more reusability, we can provide a heavy-duty version of these - just let us know.