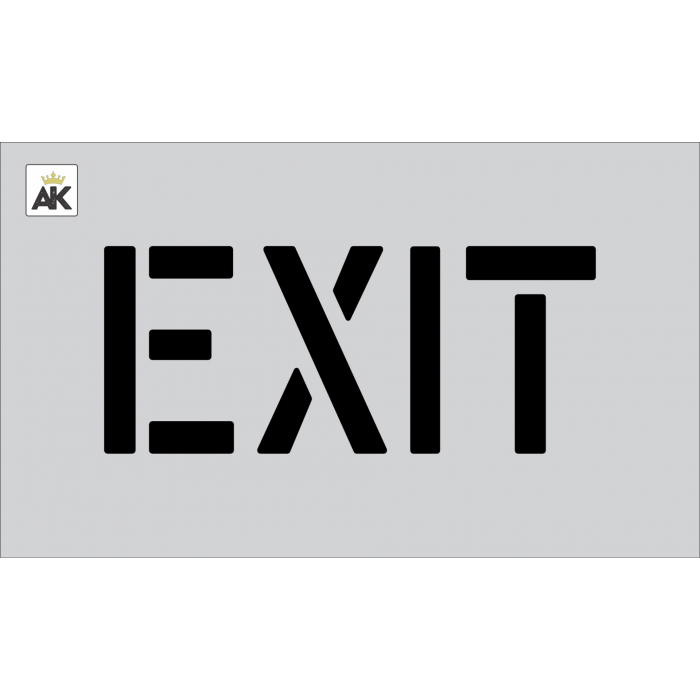 Together with the "ENTER" stencil, which gives versatility for a variety of expert striping tasks, the 6" EXIT parking lot stencil makes the ideal combo.

Read more
Highest clear LDPE Grade material
Perfect for both professionals and do-it-yourselfers
Very easy to clean.
FREE SHIPPING
Delivered in: 5-10 Business Days
Have questions? We're here to help!

Speak to an Asphalt Expert!
Contact our Experts
The 6" EXIT stencil is the perfect pair with the "ENTER" stencil, which offers versatility for a number of professional striping projects. It is a perfect addition to any big or small striping collection, and can be made durable for long-lasting use. The stencil is made in the USA and offers a warranty from the factory that guarantees that it will come without any defects or impediments that could hinder it from use in any way. Another advantage of the EXIT stencil is that it will ship within a day to your doorstep, allowing your project to begin as soon as you need. It can be used in parking garages, warehouses, driveways, and more. It can also be paired with an "ONLY" or "DO NOT" sign to give drivers and pedestrian clear directions.

The specifications and measurements of the sign are compliant with industry standards and are made to fit perfectly over any type of surface or pavement. The material that the stencil is printed on measures 12" high by 23" wide, giving the stencil plenty of room on all sides for overspray and to prevent extra dripping. The stencil will measure 6" high and 17" wide when printed, allowing it to be seen visibly and clearly by all drivers and pedestrians. It has a stroke width of 1" between the letters, giving it added clarity.

There are four different material grade options to choose from when making your EXIT stencil, and the advantages vary by the type of project you have in mind. For something durable that can be reused time and time again, the ?" PRO-Grade LDPE and the .080 ALU are the best options. They are both extremely durable and do not wear, allowing for thousands of reuses and large scale industrial projects. For something more custom, invest in the 1/16" LDPE or the .030" HIPS for a flexible and flat-laing product. This material allows for a stable print while spraying, staying put on the surface as it withstands any type of paint job.
Have questions? We're here to help!

Speak to an Asphalt Expert!
Contact our Experts
Specification
| | |
| --- | --- |
| Ready To Ship | Yes |
| Stencil Name | Exit |
| Stencil Height | 6" |
| Stencil Width | 15" |
| Stencil Type | Word Stencil |
Customer Reviews
Top customer reviews
Customer Questions
are these one time use? or can they be cleaned and used multiple times?
Most contractors clean them and use them a few times. If you are rough with stencils in general, it is possible they would crack on the first go but in general that hasn't been our experience. If you're looking for something with more reusability, we can provide a heavy-duty version of these - just let us know.