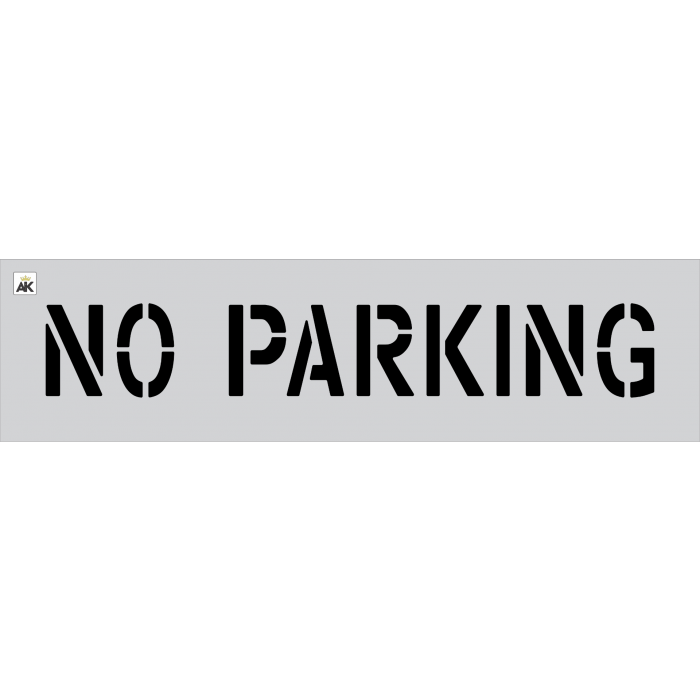 Use this pavement stencil to mark areas where parking is prohibited for vehicles.

Read more
Three different thicknesses of the highest-grade L.D.P.E. material are available.
Strong, reusable, and incredibly simple to clean
Ideal for DIY and contractor use
FREE SHIPPING
Delivered in: 5-10 Business Days
The 6" NO PARKING stencil is a great addition to any large or small striping collection, as it is a standard and common stencil for several parking and road projects. Painters and contractors can use this sign to designate clearly where cars are not allowed to park. This stencil is flexible and versatile for use on any kind of pavement. Typically, this stencil can be found painted in warehouses, drop off areas, driveways, roadsides, and more. This stencil comes in a single sheet with two words printed on it so it can be applied in one motion. It is a simple to use design that allows plenty of room for overspray and easy application. This stencil is made in the USA and can be shipped to your doorstep to get your project started early.

The measurements and specifications of this stencil meet all industry standard requirements and are cut for precision and accuracy. Each stencil can be painted symmetrically and is guaranteed to be without any defects or blemishes. The material measures 57" wide by 12" high, leaving over 6" of space on either side for easy placement and stencil overspray. When painted, the words "NO PARKING" will measure 51" in width and 6" in height. This average sized stencil can easily fit in any space and will be clear and visible to all drivers, workers, and passersby who need to see it.

The most standard material grade for this stencil is the .125" PRO-Grade LDPE, which is the most commonly used stencil in the industry. Professionals recommend this grade for its affordability, durability, and longevity. Its ?" thickness allows it to be rigid while it lays flat and stays put while you spray up to 3000psi of paint. It can last for several years, or up to a decade if properly cared for. You can reuse this stencil as many times as you need without having to worry about it warping or weakening as you reuse it.
Specification
| | |
| --- | --- |
| Ready To Ship | Yes |
| Stencil Name | No Parking |
| Stencil Height | 6" |
| Stencil Width | 40" |
| Stencil Type | Word Stencil |
Customer Reviews
Top customer reviews
Customer Questions
are these one time use? or can they be cleaned and used multiple times?
Most contractors clean them and use them a few times. If you are rough with stencils in general, it is possible they would crack on the first go but in general that hasn't been our experience. If you're looking for something with more reusability, we can provide a heavy-duty version of these - just let us know.