24" x 12" Number Kit 12-pc Kit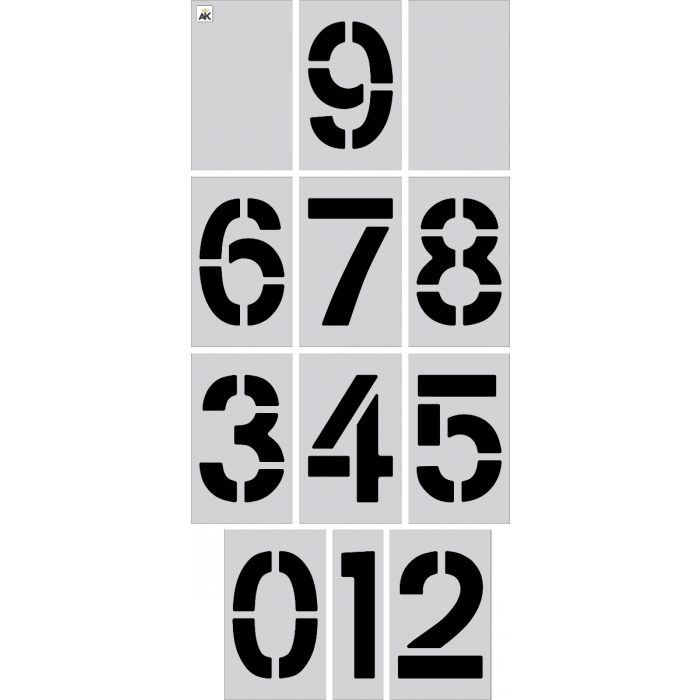 24'' x 12'' Number Kit Stencil

Read more
The 24" x 12" number kit stencil is a large number kit with elongated characters that makes them easy to read from a distance. This kit comes with 12 unique stencils which include the numbers 0 through 9, plus an additional two blank pieces to use for spacing or as an overspray shield. This kit is often used by contractors to number trailer bays, truck stops, speed limit signs, parking spaces, and much more.The kit can be upgraded to contain 18 pieces for an extra 0,1,2,3,4, and 5. Each stencil is made in the USA and comes with a warranty that guarantees it to be free of any impediments or defects.

The measurements and specifications of the stencil comply with industry standards and are fit for use in most publicly accessible areas. When painted, the numbers reach a width of 12" and a height of 24". The exception is the number 1, which only measures 4" wide due to its shape. The material itself measures 28" wide by 14" high, allowing space on each side for overspray.

There are four material grade options available for the make of your stencil kit. The .080 ALU is a rigid aluminum that lasts forever. This is the best choice for industrial sized or heavy-duty projects, as it can be reused indefinitely and can also withstand thermoplastic extruding. The next thickest option is the ?" PRO-Grade LDPE, which is an industry standard used by most professionals. This versatile material can last for up to a decade and withstand thousands of uses. The 1/16" LDPE is the counterpart to the PRO-Grade, but with half the thickness. This is good for light-duty projects. The thinnest material available is the .030" HIPS, a standard PVC that provides ultra flexibility while laying flat out of the box for a custom or one-time job.
Specification
| | |
| --- | --- |
| Ready To Ship | Yes |
| Stencil Height | 24" |
| Stencil Width | 12" |
Customer Reviews
Top customer reviews