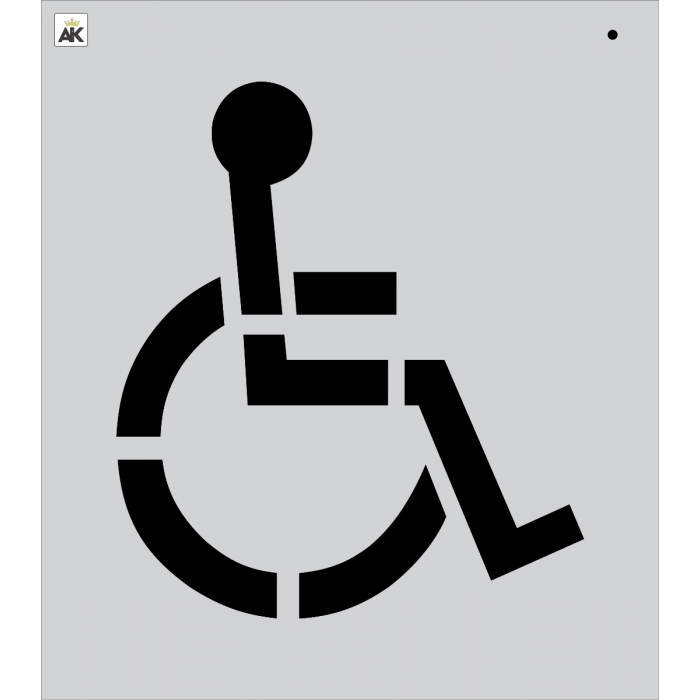 21.5 Handicap Stencil

Read more
The 21.5" handicap stencil is one of the larger handicap stencils available, and is a must-have addition to any striper's or contractor's collection. Those who are invested in parking lot projects will find a lot of uses out of this stencil. It is typically used to mark handicapped accessible entryways, pathways, ramps, and more. It is also seen in warehouses and stadiums where markings need to be visible from a great distance. This stencil is manufactured in the USA and offers a warranty that guarantees the product to be free of any impediments or defects.
Highest clear LDPE Grade material available in 3 different thicknesses.
Durable and reusable.
Very easy to clean.
The measurements and specifications of the stencil comply with industry standards and are designed for use in most publicly accessible areas. When painted, the stencil has a width of 19" and a height of 21.5". This large size is easily readable by oncoming traffic, pedestrians, or passersby. The material itself measures 25" wide by 28" high, adding several inches of space on each side to allow for overspray. The stencil is printed on a single sheet, making it easy for application, cleanup, and storage. Item is rolled and shipped in cardboard box.
Select a material grade for your stencil for varying degrees of durability, longevity and affordability. The industry standard is the 1/8" LDPE, which offers durability and affordability as recommended by professionals. It can be reused thousands of times and for up to a decade before showing any signs of wear. The 1/16" LDPE is the lightest grade option available, offering flexibility and a crisp finish for any custom use. They are still durable options that lay flat out of the box and remain rigid for sparing use.
Specification
| | |
| --- | --- |
| Ready To Ship | Yes |
| Stencil Height | 21.5" |
| Stencil Width | 18.75" |
| Stencil Type | Handicap Stencil |
Customer Reviews
Top customer reviews