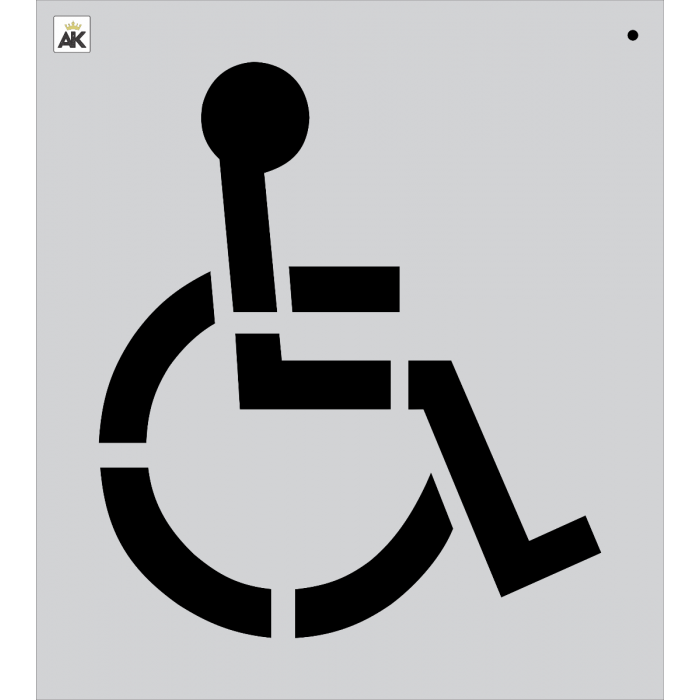 This handicap parking lot stencil has a distinctive design and may be used to improve accessibility in any parking space or disability parking area.

Read more
Highest transparent LDPE Grade material is offered in 3 different thicknesses.
Enduring and Recyclable.
Really simple to clean.
FREE SHIPPING
Delivered in: 5-10 Business Days
An industry standard, the 28" handicap stencil is small for flexibility and easy placement while meeting all ADA and Federal standards. This stencil comes factory direct and can be delivered next day to get your project up and running. The wheelchair-shaped design is a recognizable shape that can be placed within any parking space or handicap parking stall for ease of access. It simply needs to lay flat on to the space and sprayed with durable white spray paint. The best paint to use for this project would be a paint that is specifically designed for pavement marking, which guarantees longevity and lasting vibrancy. Most hardware stores carry this type of paint.
Highest clear LDPE Grade material available in 3 different thicknesses.
Durable and reusable.
Very easy to clean.
The specifications of the stencil and its materials are ADA compliant and meet the accessible parking regulations as given by the US access board. The stencil itself measures 25" wide by 28" high, giving it a slight rectangular shape. Keep in mind that the material has a width of 31" and a height of 34" to be used. It can be made in a variety of stencil grades that have many benefits depending on the type of project you need the stencil for. The .080 ALU is a highly reusable material that never wears, while the 1/8" LDPE is a PRO-Grade material that is affordable, durable, and commonly used by most industry pros.
The stencil comes with a handicap symbol only, and not a background, providing you with the ability to place the wheelchair symbol wherever is best for industry standards. Guarantee that handicapped drivers will easily spot the stencil by spraying it in the most centralized and front-facing spots. Item is rolled and shipped in cardboard box.
Specification
| | |
| --- | --- |
| Ready To Ship | Yes |
| Stencil Height | 28" |
| Stencil Width | 24.50" |
| Stencil Type | Handicap Stencil |
Customer Reviews
Top customer reviews
Customer Questions
are these one time use? or can they be cleaned and used multiple times?
Most contractors clean them and use them a few times. If you are rough with stencils in general, it is possible they would crack on the first go but in general that hasn't been our experience. If you're looking for something with more reusability, we can provide a heavy-duty version of these - just let us know.