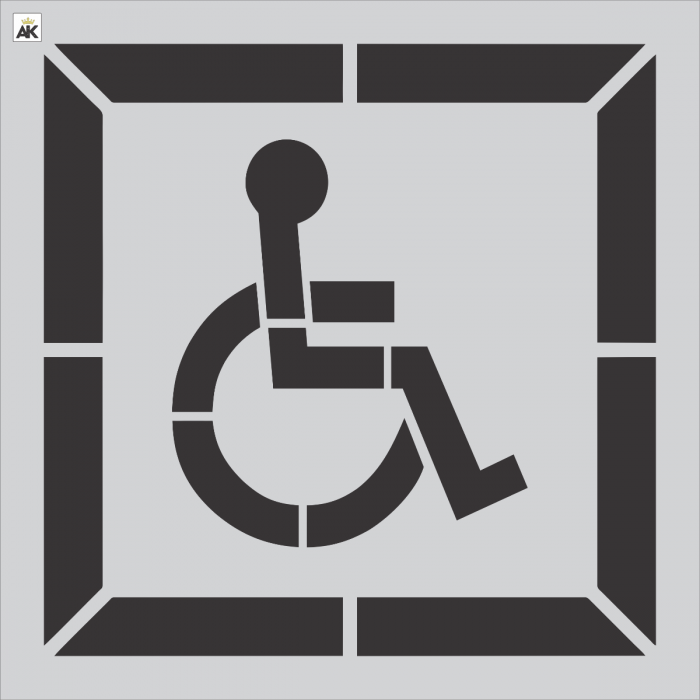 A precise square shape, measuring 48" in width and 48" in height, is what the handicap parking lot stencil is designed to be.

Read more
High-Quality Material
Wide Range and Multi-Purpose
Quick and Easy to Store
FREE SHIPPING
Delivered in: 5-10 Business Days
For a factory direct stencil that can be easily used and contributed to specific handicap parking needs, the 28" DOT Handicap Stencil is a reliable choice. While on the smaller side of industry standards, it is still Federally approved and meets all requirements to be placed in a parking space or handicap parking stall for ease of access. The specifications of the handicap stencil include a 48" width and a 48" height, making a perfect square shape. One of the highlights of this stencil is that it allows for you to spray the border around the handicap symbol at the same time, giving it a nice boxed in effect that will be easily noticeable by all drivers and passersby. The stencil comes free of any defections and is guaranteed to be easy and simple to use.
Highest clear LDPE Grade material available in 3 different thicknesses.
Durable and reusable.
Very easy to clean.
There are a variety of material choices that this handicap stencil can be made in. One is the 1/8" PRO-Grade LDPE, which is the most common choice that guarantees longevity and durability. It is the most used by professionals on standard roads and parking lot jobs. Get thousands of reuses out of your single stencil with this ?" material, which can withstand up to 3000psi of spray painting. It is portable, yet hardy as it lays completely flat during your paint job.
This handicap stencil is also available in 1/10" (.100") Light-Duty LDPE and 1/8" (.125") PRO-Grade LDPE thicknesses. Item is rolled and shipped in cardboard box.
Specification
| | |
| --- | --- |
| Ready To Ship | Yes |
| Stencil Height | 28" |
| Stencil Width | 24.50" |
| Stencil Type | Handicap Symbol Stencil |
Customer Reviews
Top customer reviews
Customer Questions
are these one time use? or can they be cleaned and used multiple times?
Most contractors clean them and use them a few times. If you are rough with stencils in general, it is possible they would crack on the first go but in general that hasn't been our experience. If you're looking for something with more reusability, we can provide a heavy-duty version of these - just let us know.