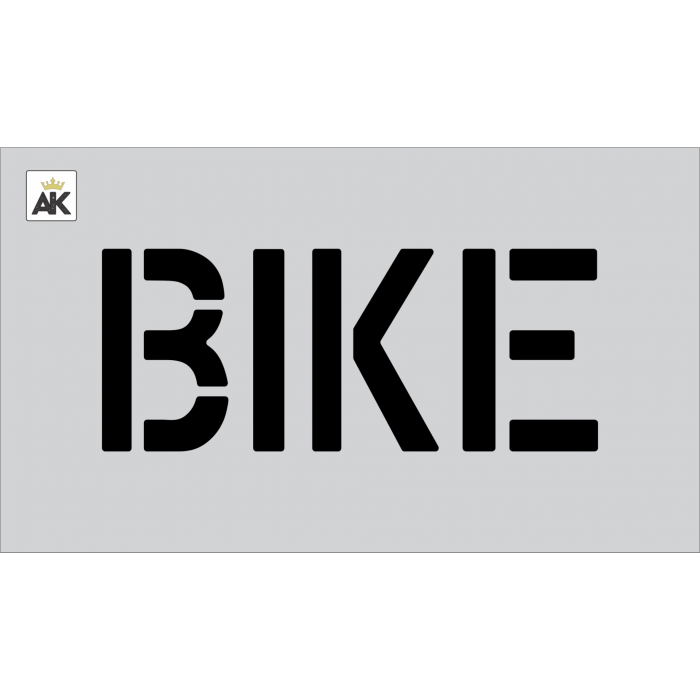 This pavement stencil can be used in conjunction with other written signs, such PARKING or LANE, to provide more guidance.

Read more
Premium Material
Durable and reusable
Easy to Clean
FREE SHIPPING
Delivered in: 5-10 Business Days
The 6" BIKE stencil is a versatile worded stencil that is used by beginners and professionals alike for pathways and bike lanes. This flexible sign can be combined with other worded signs, such as PARKING or LANE for additional direction. The stencil is CNC cut to ensure that each letter of the sign is measured equally, allowing for a symmetrical imprint upon the pavement. Stripers can enjoy this stencil for a heavy duty project, or just as a nice addition to any collection.

The specifications of the stencil meet all industry standards and comply with local and state requirements for printing. When painted, the single stencil will have a width of 18" and a height of 6", with a stroke of 1" for a clean and crisp word that is visible by drivers and walkers. The material itself measures 24" wide by 12" high, giving over 2" of space to allow for overspray and prevent any dripping from happening. It is typically used in a bike lane, but can be printed on any approved path or pavement where it is needed. The stencil is shipped with a warranty that guarantees that it will be free of any impediments that could hinder its use.

There are four material grade options to select from when making your 6" BIKE stencil. For a custom project where the stencil will be used sparingly, the most cost effective options are the .030" HIPS or the 1/16" LDPE. These are flexible yet still durable stencils that will lay flat out of the box to allow for easy painting. For heavy duty projects, and for those who plan on reusing the stencil many times, the ?" LDPE or the .080 ALU are the best options. These materials are thick and rigid, and can be reused as many times as needed for a long-lasting project.
Specification
| | |
| --- | --- |
| Ready To Ship | Yes |
| Stencil Name | Bike |
| Stencil Height | 6" |
| Stencil Width | 21" |
| Stencil Type | Word Stencil |
Customer Reviews
Top customer reviews
Customer Questions
are these one time use? or can they be cleaned and used multiple times?
Most contractors clean them and use them a few times. If you are rough with stencils in general, it is possible they would crack on the first go but in general that hasn't been our experience. If you're looking for something with more reusability, we can provide a heavy-duty version of these - just let us know.