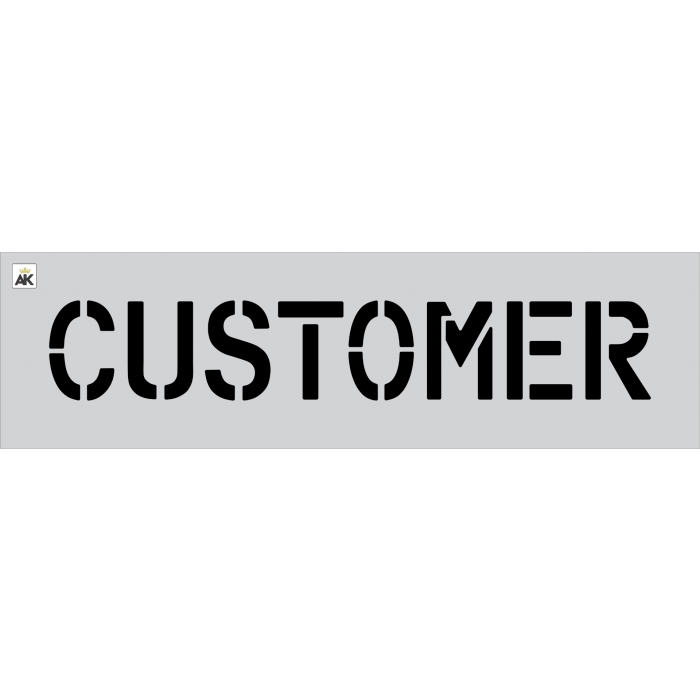 The 6" CUSTOMER parking lot stencil is a nicely sized phrase that fits well into any typical parking place and is suitable for a variety of purposes.

Read more
Lightweight and resilient LDPE
Best for DIY and professional applications
Quick and Easy to Store
FREE SHIPPING
Delivered in: 5-10 Business Days
Have questions? We're here to help!

Speak to an Asphalt Expert!
Contact our Experts
A versatile stencil that is used for a wide range of projects, the 6" CUSTOMER stencil offers a perfectly sized word that can fit well into any standard parking space. It is typically made with the industry standard ?" PRO-Grade LDPE, which offers durability and longevity for any number of uses. Stripers can make thousands of uses out of the stencil over several years before it shows any signs of wear or tear. It is a flexible stencil that can be combined with other industry stencils such as the words "ONLY" or "PARKING" to give clear directions to drivers.

The specifications of this stencil meet all industry standards and are designed to fit perfectly in a typical parking space or customer parking stall. When painted, the stencil will measure 43" wide and 6" high for a clear and visible imprint. The material itself reaches a 49" width and a 12" height, allowing over 6" of overspray room on all sides of the word. Each letter of the word CUSTOMER has a stroke width of 1", giving it a crisp appearance. It is cut specifically for use in a parking lot, but can be used on other pavements as well.

If you need something even more durable than the professionally recommended PRO-Grade LDPE, there are other options available. For a high tech option, invest in the .080 ALU. It is made of a rigid 5052 aluminum which makes it virtually indestructible. It will last forever, allowing the striper to reuse it as many times as needed over any period of years. This material is also useful for thermoplastic extruding or preformed striping, giving the stencil an even bolder appearance. There are thinner options available if you are looking for something flexible or custom fitting. The 1/16" LDPE is a common material that offers a lighter-duty feel than the PRO-Grade. The thinnest option is the .030" HIPS, which has been used for years in the stencil industry and provides a clean fit for a custom or sparing project.
Have questions? We're here to help!

Speak to an Asphalt Expert!
Contact our Experts
Specification
| | |
| --- | --- |
| Ready To Ship | Yes |
| Stencil Name | Visitors |
| Stencil Height | 6" |
| Stencil Width | 37" |
| Stencil Type | Word Stencil |
Customer Reviews
Top customer reviews
Customer Questions
are these one time use? or can they be cleaned and used multiple times?
Most contractors clean them and use them a few times. If you are rough with stencils in general, it is possible they would crack on the first go but in general that hasn't been our experience. If you're looking for something with more reusability, we can provide a heavy-duty version of these - just let us know.