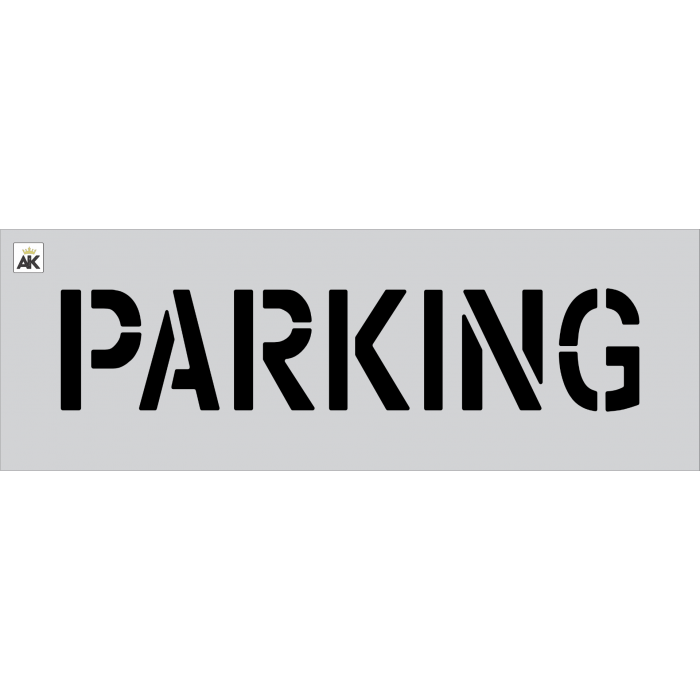 6 PARKING Stencil

Read more
For a versatile stencil word that provides a useful addition to any professional collection, the 6" PARKING stencil is a must-have. Beginners and pros alike will enjoy the easy application directions of this stencil and its flexible transportability. It can be paired with other worded signs such as "ONLY" or "GARAGE" for added direction. This sign is a medium to large industry size that can be easily seen by all drivers and pedestrians in the area. It is made in America and comes with a warranty that guarantees that it will be free from any defects or impediments.

The measurements and specifications of this sign meet all industry standards and are guaranteed to be symmetrical and cut with precision. The stencil is always in stock and can be delivered by the next day so you can get your project started right away. When the stencil is painted, it measures 35" in width and 6" in height. The material that the stencil is printed on reaches a width of 41" and a height of 12" for ease of placement. The word "PARKING" has a stroke of 1" between the letters for clear visibility.

There are plenty of options to choose from when selecting a material grade. Your stencil can be equipped with the ?" PRO-Grade LDPE, which is the factory recommended material that offers durability and longevity. With this grade, you can reuse the stencil thousands of times as it lays flat and withstands up to 3000psi of paint. It can last for over seven years when properly cared for. If you're looking for something on the lighter duty side, the 1/16" LDPE is the PRO-Grade's counterpart that offers half the thickness. It is flexible without sacrificing durability, and it is able to be used for custom or sparing jobs.
Specification
| | |
| --- | --- |
| Ready To Ship | Yes |
| Stencil Name | Parking |
| Stencil Height | 6" |
| Stencil Width | 29" |
| Stencil Type | Word Stencil |
Customer Reviews
Top customer reviews
Customer Questions
are these one time use? or can they be cleaned and used multiple times?
Most contractors clean them and use them a few times. If you are rough with stencils in general, it is possible they would crack on the first go but in general that hasn't been our experience. If you're looking for something with more reusability, we can provide a heavy-duty version of these - just let us know.